This post may contain affiliate links, which help to maintain Digital Nomads Peru. Making a purchase by using any of these links doesn't result in any additional costs for you, of course. Digital Nomads Peru is a participant in the Amazon Services LLC Associates Program, an affiliate advertising program designed to provide a means for sites to earn advertising fees by advertising and linking to Amazon.com. I only recommend goods and services I believe are useful and reliable.
This is the start of a new series on the website: Interviews with digital nomads from all over the world. It's my aim to include people with backgrounds as diverse as possible, professionally as well as culturally.
When I started out as a digital nomad in 2014, there were people telling me that I could do it because I was privileged coming from a Western country with a strong passport. It's true that I had certain advantages but nowadays, I see people from so many countries living a location-independent lifestyle and traveling the world.
The reasons why we do it are different and so are the ways we travel and live in different places.
Digital Nomad Interviews: Dayanne from Brazil
My first interview partner is Dayanne from Brazil who I met personally in Lima/Peru. Here are some links if you'd like to know more about her and follow her on social media:
Let's get started with the interview:
Hi Dayanne. Could you please tell us a bit about yourself and your background.
I was born and raised in the southern region of Brazil. As part of an average middle-class family, I studied all my life in private schools. At 17, I moved to another city to attend a bachelor career in Anthropology and Archaeology at a public University – Universidade Federal de Pelotas. There, I met people from all over the country, got involved in several projects and learned more about myself and others that I could ever imagine.
I ended up researching gender issues and women's lives through Ancient Greek pottery while also working closely with local communities. I graduate at 21 filled with passion for what I had been doing the past years, but I had no idea how my degree, experiences and the skills I picked up along the way could turn into an actual job.
Yes, everyone warned me this was going to happen. That's the first thing people tell you when you say you're majoring in Anthropology. I guess I didn't listen, or cared, at the time. But I don't regret it one bit. I'd do it all over again, because this meant much more to me than a degree hanging on the wall.
I've been writing fiction and poetry since I was about 13 years old. Writing has always been a constant in my life. In college, almost all of my writing turned out to be academic writing, and I became very good at it. I started helping friends with their essays and discovered this was something I really liked to do.
After I graduated, I started offering editing and proofreading services at the University. I would go to every building and put up my advertising, which had comics to conquer some attention in the middle of party posters.
I edited and reviewed successfully many thesis and essays. Unfortunately, it didn't pay very well. I was working very hard and getting almost nothing in return. College students are always broke – always – and they need the job done for, like, yesterday. So I quickly grew tired of it and decided to find a new clientele.
That's why I turned to online writing. I started blogging and writing for affiliate marketing websites with very little idea of what I was doing. But I ultimately learned how to do that very well, and that's what I've been doing to pay the bills until now.
Digital Nomad Guides: Lima – Get your copy now!
This guide gives you all the information needed for a soft landing in Peru's capital. Don't waste your time and money figuring out basic things. Also available: Digital Nomads Guide for Buenos Aires, Medellín, Santiago de Chile and Playa del Carmen.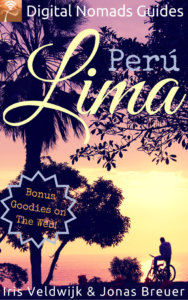 Why and when did you set off as a digital nomad?
After landing a remote position to write SEO guides for an international start-up, my boyfriend and I were living very comfortably in Brazil. He'd also got a very good remote position and we were both working part-time (about 4 hours a day), so we had plenty of time to work on our own projects and relax. The thing was the city and its surroundings had very little to offer and it wasn't safe to go out at any time. We were bored and eager to go somewhere new.
We were living in a rented one-bedroom apartment in a medium-size city and we were getting much more money than we were spending. We had very low expenses and adopted the minimalist style early on. So we started making plans to go on a one-month trip to Europe. Neither of us had ever made a trip like this before. I was terrified because I thought we would never have enough money to do it. It turns out we did (and we had plenty of money left afterwards).
We visited five countries, including Greece, which I had been dying to go since I started studying Ancient Greece. When we got back, we started thinking we could totally do this full-time. We had no strings attached to that city, no debts to pay, no family that depended on us.
From there we began to plan how it would work and we started saving for it. We would continue to work, but we wanted to have a decent amount saved for travel insurance and emergencies (which was a very good move because after only four months, we did need it).
We sold everything we had in the apartment and ended with one suitcase and one backpack each. We spent two weeks with each family to say our goodbyes and we left in June 2018 to Mexico.
Which continents/countries have you already visited? Do you have a bucket list of places you'd like to see?
Since I've been a nomad, I visited Mexico, the United States, and Peru. But I've been to other countries before.
I don't have a bucket list and I don't think I'll ever have one. For now, I feel like I have enough time and energy to get to know a lot of places without having to plan a crazy trip around the world in 100 days.
And honestly, I don't even like to count the number of countries I've been to. For me, it's not about the number of places you visited, it's about how much you grew and learned from those places.
How do you handle work vs travel/sightseeing time?
That's a good question! It's been hard to manage my time so far. I haven't found the right balance yet and I'm struggling a bit with this.
It can be partially due to the fact that I'm not traveling alone. While my boyfriend has just launched his company, he's more focused on work right now, so he needs to be available and can't take many days off. And that's completely fine, but I'm on the opposite end. I've put the sightseeing and the traveling as my priorities, so it has been hard to find a balance between the two of us – after all, we wanted to do this together.
Sometimes I feel like I'm not enjoying and I wish for nothing more than to be a tourist on a holiday. But then I think again, and I don't want to be just a tourist on holiday. That's not why I chose "this life". I don't intend to live as a tourist for years on end.
So it's a double-edged sword. I'm still figuring it out.
How long do you plan ahead? What are the advantages and disadvantages of planning ahead, in your opinion?
When we started traveling, back in June 2018, I had a lot of plans. We were going to Mexico, the USA, then maybe Canada, Europe, and from there to Asia, North Africa, Australia, and head back to explore South America and especially Brazil.
But after four months and some pretty unexpected turn of events that interrupted our trip, we are not planning too far ahead anymore. We plan the next month, and that's about it. We still want to go to all those places, but we're not laying out any fixed dates.
We are taking it slow, meaning we're staying at least a month in each place to establish a work routine. Today I don't see many advantages in planning ahead. I actually like to have an open schedule, it's kind of liberating because I'm always changing my mind.
Are you looking for accommodation in Lima?
If you're a couple or two friends, I recommend this beautiful vintage boutique apartment with great internet which is owned by my friend Sergio. Click on the picture to go directly to the Airbnb listing or read my personal review and description here.
Don't have an Airbnb account yet? Use the button below to sign up and receive a US$ 25 travel credit.

How do you choose your accommodation? What kind of accommodation do you like best? Why?
I think I have a pretty high standard when it comes to accommodation. I'm very picky because I want a place comfortable enough to enjoy a month stay. So I normally stay in an entire apartment with a full kitchen (I cook a lot) and laundry machine. I like to work from home most of the time, so it has to be comfortable. I've never stayed in hostels and I think that's definitely not my cup of tea. I like to be in a quiet and private space to work and recharge.
How and where do you like to work? Why?
Home, definitely. It has to do with the distractions. I get distracted easily if I'm working in a cafe, for example. So to do the heavy work, it's always home.
Do you have any tips/recommendations for making sure that you have good internet at your next destination? Have you experienced serious problems regarding the internet?
Actually, no. That's usually not a factor that has guided my destinations so far. Probably because I've never experienced any sort of internet-related problems. I just make sure with the owner of the rental if the internet is good enough. I specify to them that I work from home and therefore I need a stable connection.
You're currently traveling in South America. Have you had any especially good or bad experiences?
So far I've been only to Lima. Next I'm going to Cusco. I didn't have any bad experiences yet, thankfully, but none good enough to mention as well. Some family will meet us in Cusco, so I'm looking forward to that.
Do you like to return to places or do you prefer to discover new cities and countries?
I definitely prefer to discover new cities, but I don't make that a rule. If it happens, I'll gladly return to places I absolutely loved.
Do you have plans to settle down one day? Would you then return to Brazil or rather live in another country?
I don't have plans to settle yet. I don't think I will for many years to come, but I won't make predictions!
Brazil is definitely on the list of options, I don't discard it. But I'd like to experiment living in a different country for a longer period of time – more than tourist visas allow. Until now I've been to many places I could happily stay longer, and the list is sure going to increase as I move around. I think the next few years are going to be important for me to discover where I would potentially like to live.
You've recently started a project about digital nomads in Spanish. Could you tell us a little more about it?
It's called Sentido Nomade. I had the idea to gather real stories from nomads all over the world in one place. Not only digital nomads, but nomads in general. There are many people who don't live in a specific place but don't consider themselves as nomads, for example, or people who are on the road but don't work online. I want to include these people as well.
I'd like to show what leads people to that decision, and what being a nomad it's actually about. For me, it may be about finding purpose in life. For you, it may be about running away from your family. We all have different backgrounds and reasons that made us choose to leave home.
I want to diverge from people selling the digital nomad lifestyle as if it's the ultimate antidote to unhappiness fit for everyone. We know it doesn't work like that. When you travel you bring your mental baggage with you. You don't become someone else just by changing your geographical location, and I think that's really what's missing from the common sense around digital nomads.
I want to highlight the downsides as well as the upsides of living as a nomad, doing this through real stories, through people sharing what they feel about it, how and why it happened to them.
I've started conducting interviews a few weeks ago and I've received some great feedback so far. We usually think being a nomad is all about traveling, "experiencing new cultures", "living like a local" and that sort of thing. But I think that's so far off. People sell that image because it's easy and it's clickbait for you to buy their 5-Steps-To-Become-A-Digital Nomad program.
When I started talking to people who were really sincere about their journey, they made me realize that being a nomad it's not so much about traveling as it is about belonging. Which is something I personally experience as well. If you feel you don't belong at home, at your job, at a house-and-kids scenario, you leave. And now that's a group of people selling the image that you can leave, travel the world and work all at the same time. So who would say no to that? I was drawn to this as well. But there's more to that.
My personal experience as a nomad has been a roller coaster and I'm still trying to figure out what it means to me. I think listening to people talk about their own journey is really helpful in that sense.
I'm currently contacting nomads online, but the idea is also to meet face to face and talk about these topics.
Any recommendation for people who would like to start a nomadic life but are not sure how?
There's a lot of information about that online. So I'd just say to be careful while making this decision. Your eyes may be seduced by pretty pictures of people working by the beach or by the pool, but don't buy into the good stuff without considering the bad stuff! Would you really like to be with your head stuck into your notebook in a dream-like beach?
I didn't think so.
Everything in life has its ups and downs and I realize I might sound a bit bitter about this whole digital nomad reality, but that's because there's already a lot of people talking about the advantages of this lifestyle.
Although I don't regret my decision, I wish I had been more careful while planning it, especially considering mental health issues that are sure to pop up while "on the road" for too long.
Thank you very much, Dayanne. Those were some really interesting insights. 
Are you a digital nomad and would like to be featured in this interview series? Please contact me. I'm looking forward to hearing from you.
Did you like the post? Then why not share it on Pinterest? Muchas gracias!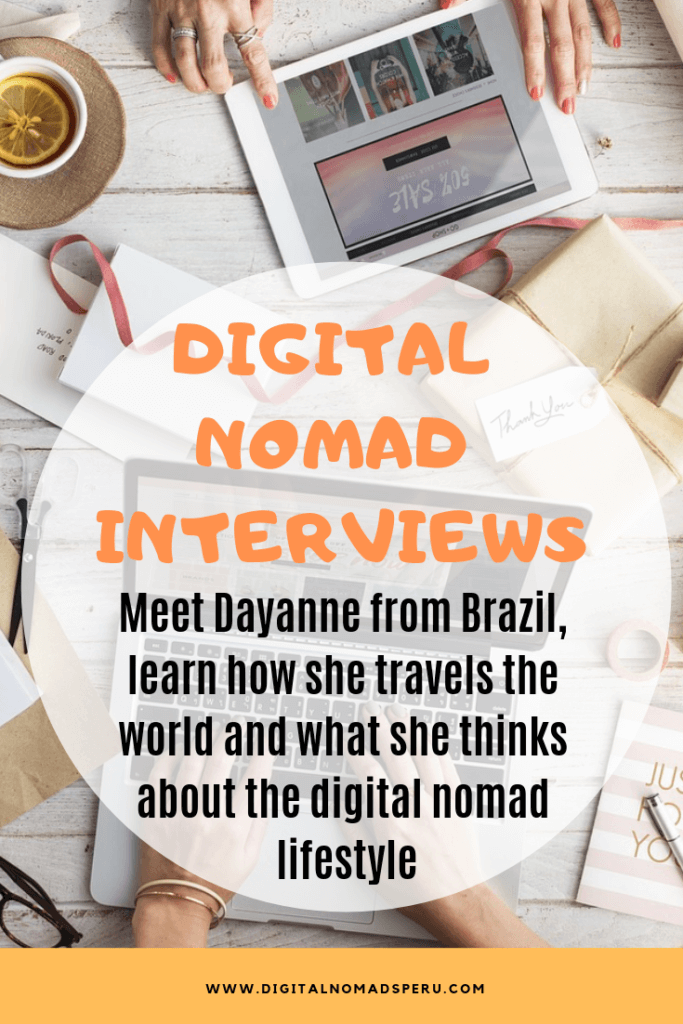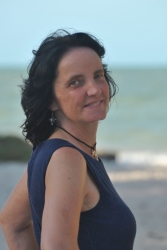 Latest posts by Daniela Fries
(see all)