Some weeks ago, I recommended a digital nomad-friendly AirBnB in Cusco. Now, it's time to add something for Lima. While the place in Cusco was almost a co-living space (at one point, we were three digital nomads), this one is a little different.

Vintage Boutique Apartment in Barranco
Quick direct link to the AirBnB listing
Location
If you visit Lima for the first time and do some research about where to stay, you will find out that Miraflores and Barranco will be the most recommended and most touristic neighbourhoods.
Miraflores is bigger, more commercial and more hectic than Barranco. During my first 1.5 years in Peru, I always rented accommodation in Miraflores. Unfortunately, there's nothing I'd recommend here on Digital Nomads Peru because either I had internet issues or the place was not clean.
Well, when I returned to Lima in  November 2018 after my month in Cusco, I was offered the opportunity to rent a place in Barranco and decided to go for it. Well, I don't regret it. Barranco has a very Bohemian atmosphere. There's a lot going on here on weekends but during the week, it's pretty quiet and relaxed. I guess there's a reason why Peru's most famous and Nobel Prize-winning author Mario Vargas Llosa chose Barranco when he lived in Lima.
And Miraflores is close,  you can easily get there by bus, bike, taxi or even walking. Barranco is a safe area, I live just one block from the AirBnB and walk around here at all times of the day feeling absolutely safe. I just recommend being a little careful at night the further you get away from the coast. But that's normal precautions like in every big city.
Host
I'm actually a little biased as far as the apartment is concerned because my friend and business partner Sergio owns it and I and my Peruvian friend Jessica help as co-hosts. However, this also means that I'm familiar with the place and can assure you that the apartment looks exactly like in the pictures.
In the picture on the left, you can see Sergio relaxing with a cup of tea after we added a bit of Cusco (the tablecloth with those typical Peruvian colours) to one of the terraces and placed quite a few plants in the apartment.
As Sergio is originally from Argentina, you'll even be able to enjoy some mate while staying in the apartment. If you've never tried mate or have never prepared it yourself, Sergio will surely love to show you how to do it correctly – and also how to drink it properly. Preparing and drinking mate is an art in Argentina and Uruguay :-).
Internet
Being a digital nomad myself (although quite a settled one at the moment), I know that this is very important. Here's the result of the speed test I ran some days ago: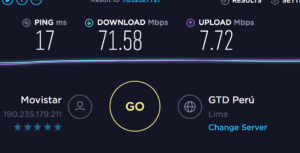 There are repeaters in the apartment, so you have a download speed of at least 60mbps in all rooms. Sometimes, the signal gets lost but that happens everywhere in Barranco or Miraflores when you're close to the coast.
Funnily, this is absolutely no problem when you're doing video conferences. My very tech-savvy son explained to me how this is possible but I've got to be honest: I didn't really understand it.
However, as I work a lot with video conferences myself, I can assure you that you won't have any problems. For all other tasks, just deactivate the wi-fi when the signal is lost and reactivate it, then it's back.
Apartment
This is not your typical AirBnB accommodation with cheap and mainly practical furniture. Most of the furniture consists of carefully chosen unique pieces designed by Peruvian artists.
The apartment is suitable for 2 – 3 people. It consists of a combined kitchen and living room, one bedroom, one walk-in closet, two bathrooms and two terraces. The kitchen is fully equipped so that you can prepare your own meals if you want to. And in the living room, you find some board games if you like to spend a quiet evening at home.
As the apartment is situated in the back part of the building and not facing the street, it's very quiet. I live in a similar place and really appreciate it as the constant honking of car drivers and car alarms going on day and night can make sleeping well in Lima pretty difficult.
How to get to Barranco and how to get around
If you come from the airport, Sergio can arrange a taxi at the cost of 50 soles for you. Absolutely worth it for two people and the most comfortable option.
If you're alone, you may also choose the Lima Airport Express (25 soles for non-residents), get off at LarcoMar and either take a taxi (5 – 6 soles) or a local bus (1 sol) until the first stop of Av. San Martin in Barranco. However, taking a bus from LarcoMar to Barranco during rush hour is not exactly something I'd recommend if you have a lot of luggage.
As I mentioned above, Barranco is not really big and you can easily walk everywhere. There are a lot of cute little restaurants and cafés near the apartment, just take a walk down Av. Graú or Av. San Martín.
If you want to go to Miraflores, just take the red-green bus at Av. Graú which says "Chorrillos – Miraflores". It costs 1 sol and the last stop is at Parque Kennedy, the heart of Miraflores.
Barranco also has a Metropolitano stop (Balta). The Metropolitano is Lima's rapid bus system and will take you to the historical city centre within 20 – 30 minutes.
Click here to read more about public transport in Lima. 
Make your reservation now!
The apartment is currently (December 2018/January 2019) available for a special price on Airbnb.
Click here to make your reservation!
Don't have an Airbnb account yet?
Click here to sign up and receive US$ 25 toward your first trip.
Did you like the post? Then why not share it on Pinterest? Huge thanks!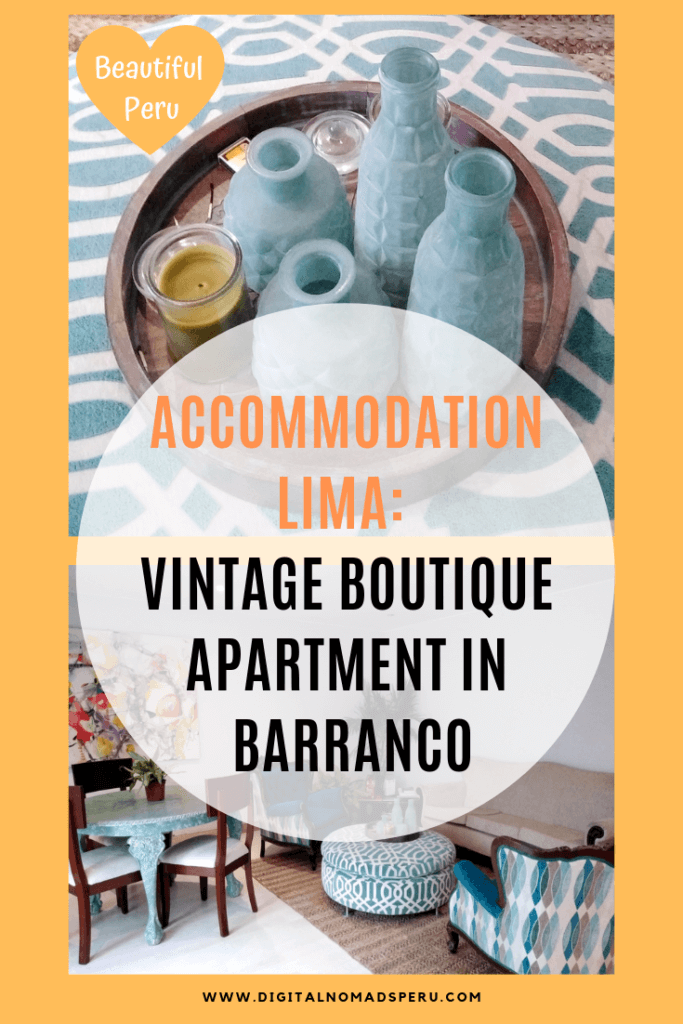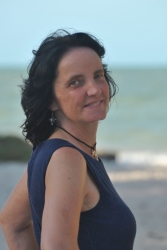 Latest posts by Daniela Fries
(see all)