Are you a digital nomad who is looking to spending some time in Peru? When I first came to the country in 2017, I just knew that Lima was the capital and that Cusco was the city of the Incas. During the past couple of years, I had to chance to explore Peru a bit more in depth and two things have become clear:
1. Peru is so much more than Cusco and Machu Picchu.
2. Many places in Peru are better for touristic activities then for getting settled for a month or two and get your work done.
This website doesn't focus on the touristic stuff. There are numerous blogs who do a better job writing about Peru's famous and not so famous cultural and nature treasures. Or you just get yourself a copy of Lonely Planet.
As digital nomads, good wifi is important to earn money. Many nomads also appreciate having a coworking space nearby or prefer to go to cities where they stand a good chance to meet other nomads. Taking all this in consideration, there are 4 cities in Peru which I recommend for longer stays. This doesn't mean that there aren't more awesome places. Of course, there are. However, in most of the cases, you'll make most of your stay when you set up your home base for 1 – 3 months in one or several of those cities and visit other places just for a couple of days.
By the way, when you enter Peru as someone coming from an EU country or North America, you'll be given a visa of 90 days which you can extend online to a total of 180 days. Please read this article for more detailed information about visa regulations in Peru. And please do your own research if you come from a country with a so-called weak passport. This website is a good start to find out about visa requirements.
So let's now talk about those 4 Peruvian cities which make a good home base for a digital nomad:
Lima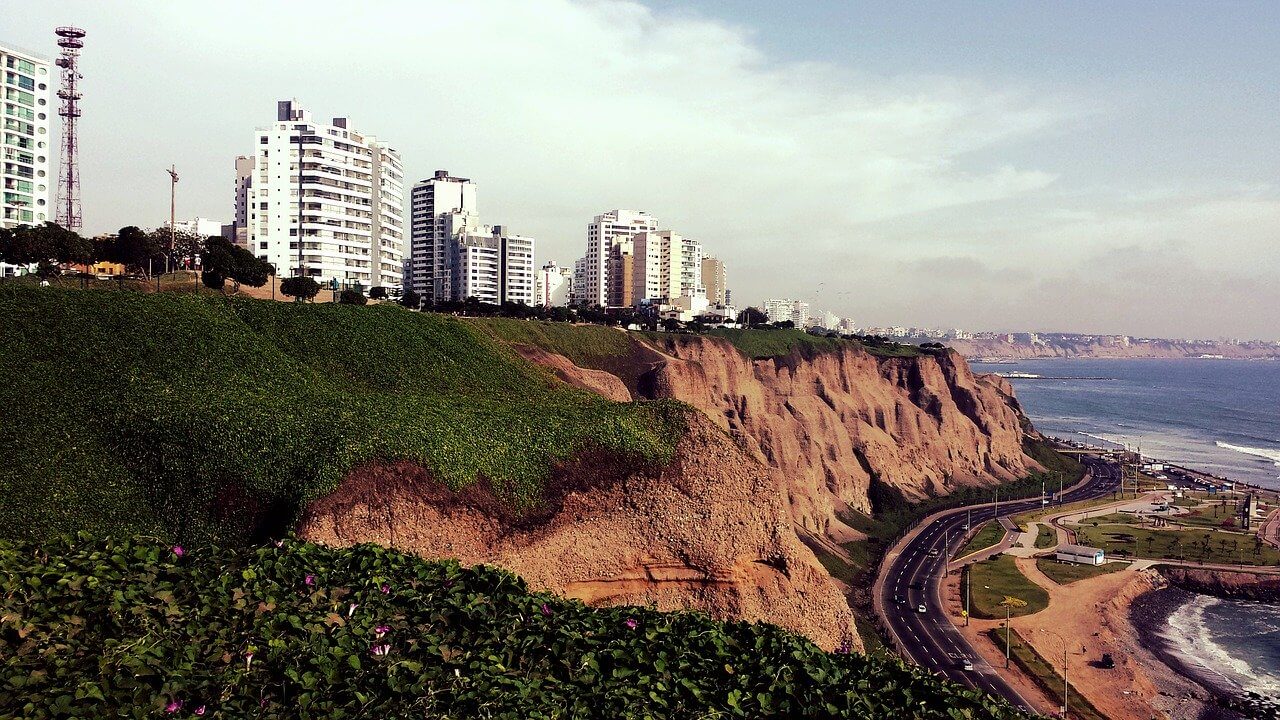 Lima is Peru's slightly chaotic capital. With its 10 million inhabitants, frequent traffic jams and constantly honking car driver's, it's not the best place for nomads who are looking for a relaxed place close to nature. However, for city people like me, Lima is the best option for a long-term home base in Peru.
Where to stay?
Miraflores and Barranco are the neighborhoods where most tourists and nomads look for accommodation. Taking normal precautions, both are safe to walk around, even at night. They're a bit like El Poblado and Laureles in Medellín/Colombia but have the advantage that they are neighboring barrios. A walk from Miraflores to Barranco takes about half a hour or you take a bus for 1 sol (about US$ 0.30) or a taxi/Uber for 6 – 10 soles.
Miraflores is much bigger and has all the big stores, supermarkets and numerous cafés and restaurants for all budgets. Don't miss the Kennedy Park with its well-cared for stray cats which are not shy at all. Barranco is much more relaxed and has the reputation for being Lima's most bohemian neighborhood. Instead of big chains, you'll mainly find locally owned cafés and stores there.
Both Miraflores and Barranco are situated at the coasts and have beautiful promenades (malecón) and parks with ocean view.
When to come?
Unless you intend to lock yourself in your room or apartment to get work done, I suggest avoiding Lima in July and August. Miraflores and Barranco are beautifully situated at the Pacific Ocean but that means a lot of fog and cloudy weather. July and August are the worst months, it may happen that you won't catch a glimpse of the sun for weeks. It doesn't really rain in Lima but the air is very humid and during the winter months, this often results in an ugly drizzle. Lima is most beautiful from December to April.
What to do?
If you're a foodie, you'll love Lima. Personally, I'm not a huge fan of Peruvian cuisine but it has a very good reputation and apart from that, you'll also find a lot of international restaurants and also vegetarian and vegan options. Starving in Lima is impossible.
If you're interested in surfing, Lima is a good spot for beginners. There are various surf schools and you can also go on your own, of course.
Like any other big city, Lima offers a lot of cultural events, has cinemas and shopping malls. The biggest mall is Jockey Plaza, about 10 km away from Barranco/Miraflores.
National flights within Peru are pretty cheap, so you can easily fly to a beach in the north, to the Amazon region or to an Andean town for a couple of days. A bus will take you to Paracas/Islas Ballestas and Ica/Huacachina in about 4 hours.
Cusco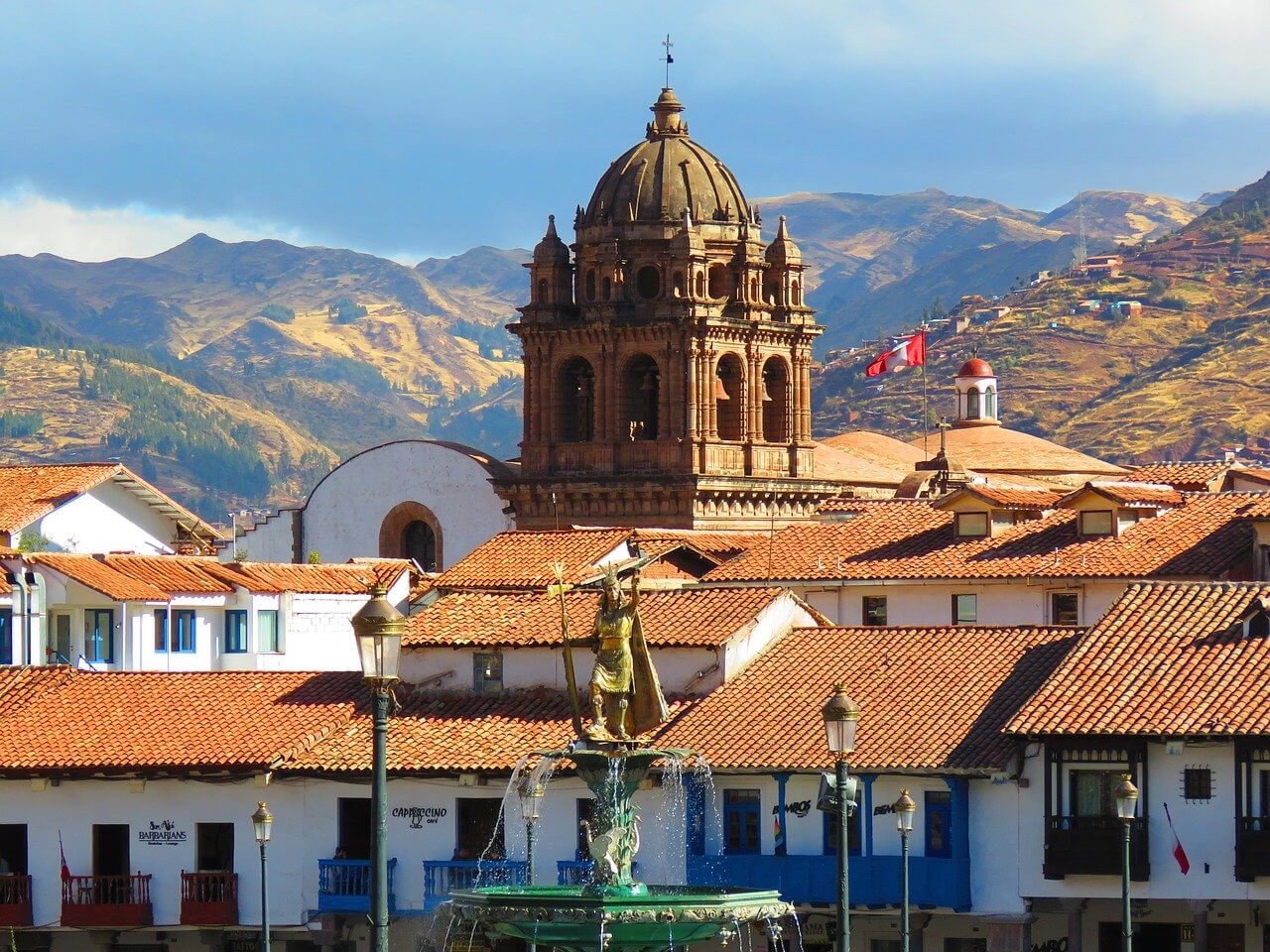 It takes only about 1.5 hours by plane to get from Lima to Cusco but you'll be in a totally different world and climate. Cusco is situated at an altitude of more than 3,000 meters. Most people don't have huge problems with it, they just have to slow down a bit, especially during the first 10 – 14 days. However, it's not possible to predict how your body reacts to the altitude and has nothing to do with your fitness level. Coca tea, coca leaves and altitude sickness (soroche) pills are available everywhere.
The city of Cusco is pretty busy and touristic but you can quickly escape the city and spend a day somewhere in the Sacred Valley. Therefore, Cusco is a better choice for nomads who are not that fond of huge cities and prefer to be surrounded by nature.
Where to stay?
There are numerous Airbnbs, hostel and small hotels in or near the historic center. That part of Cusco is also very walkable and safe. The historic center consists of many small roads and alleys where all kind of cafés, restaurants and little shops are hidden. If you're looking for a less hectic place, the neighbourhood of Wanchaq is a good choice. It's still close enough to the historic center for a walk (about 30 minutes) but you may also take a bus or an Uber.
When to come?
The rainy season starts at the end of October and lasts until April. January is the month when you can expect most rainfall. You probably don't want to come in the wettest month if you plan to do a lot of hiking. However, rain won't effect your stay in the city of Cusco a lot. In the mornings and evenings, it can get pretty chilly in Cusco while sunny afternoons can easily result in a sunburn, so make sure to pack accordingly.
What to do?
The city of Cusco used to be the capital of the Incas, so there are a lot of museums and archaeological sites you can visit. The old fortress of Saqsayhuaman is situated above the city and every year on June 24, the Festival of the Sun (Inti Raymi) takes place. The Sacred Valley is full of other interesting places and ancient Inca Sites such as Pisaq, Ollantaytambo, Moray or the saltponds of Maras. Unfortunately, the possibilities to visit many of these places are not very nomad-friendly but rather targeting tourists who only spend a couple of days in Cusco and the Sacred Valley. The integral touristic ticket which allows you to visit 16 sites is valid for just 10 days. Please look here for all options, you'll need to plan ahead. Machu Picchu is not included but organizing a trip to Machu Picchu is easy when you're based in Cusco. 
Arequipa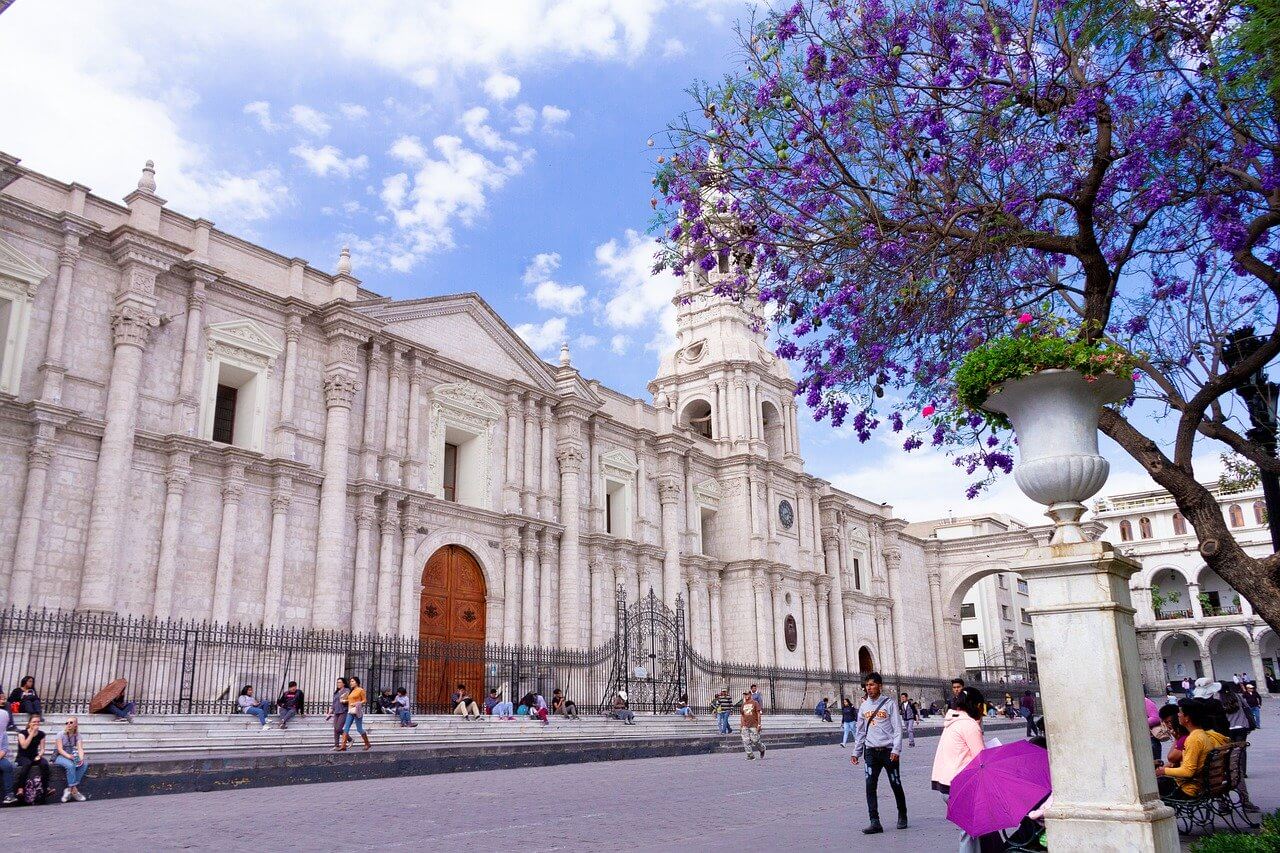 Arequipa is situated in the south of the country and is Peru's second largest city with about 1,000,000 inhabitants. It's know as "la ciudad blanca" , the white city because of its splendid historical center which is dominated by white houses and the huge white cathedral. Arequipa is surrounded by the volcanoes Misti, Pichu Pichu and Chacani and situated about 2,300 meters above sea level. The city's solar radiation is the highest in Peru and one of the highest in South America. Therefore, using sunscreen is a must whenever you take a longer walk.
You can get to Arequipa by plane (1.5 hours) or by bus (app 17 hours). If you choose the bus option, it makes not to go directly. Paracas with its natural reserve and the Ballesta Islands, the desert oasis Huacachina near Ica and Nazca with its ancient Nazca lines are worth a short break of two to three days each.
Where to stay?
Just like in Cusco, you can find all kind of accommodation in Arequipa's city centre. If you prefer to be a bit further away from the bustle of the center, the neighbourhood of Yanahuara is a good choice and also offers great views to the volcanoes and the city. Getting around in Arequipa by bus or Uber is cheap and easy. Both Yanahuara and the city center are safe as long as you take normal precautions like everywhere in South America.
When to come?
Arequipa has an average of 300 days of sunshine per year and a short rainy season lasting from December to March. The average temperatures don't exceed 25°C and can drop to 6°C in June/July. However, with sunshine, it often feels less cold than in Lima where the average winter temperature is much higher. Therefore, Arequipa is a good destination all around the year. Just hiking tours may be a problem in the rainy season.
What to do? 
You shouldn't miss the Santa Catalina monastery and a guided visit of the cathedral. At Santa Catalina, you'll feel like in another world and the cathedral visit will give you the chance to climb on the building's roof.
Arequipa is situated close to the Colca Canyon, the world's second deepest canyon where you watch the condors fly or hike to the ground of the canyon. Do yourself a favour and don't book any one-day tours.
Arequipa is situated about 300 km away from Puno and the Lake Titicaca, that's a bus ride of about 6 hours and absolutely worth it for a trip of 3 – 5 days. As far as internet speed is concerned, Puno is suitable for digital nomads but with its elevation of more than 3,800 meters above sea level and an average annual temperate of about 8°C is probably not the best choice of a home base for most nomads. 
Trujillo/Huanchaco
If you're more the beach nomad who loves tropical weather, either Trujillo or the surf town of Huanchaco are a great option for a home base. However, even though there is an English-speaking community, life will be easier for you if you speak Spanish. Trujillo can be reached by plane from Lima in one hour and there are also frequent and comfortable long distance buses. The journey Lima – Trujillo by bus takes about 8 – 9 hours. Trujillo is Peru's third biggest city with almost 1,000,000 inhabitants while the beach resort of Huanchaco has a population of 80,000. Huanchaco is situated about 8 km north of Trujillo and it's easy to get there by bus or Uber.
Where to stay? 
Airbnbs in Trujillo are considerably cheaper than in Huanchaco, especially during the Peruvian summer holidays (December – March). In general, the internet in Trujillo is also faster and more reliable. So if your focus is on work, a place in or near Trujillo's city center is your best option. However, for beach vibes and surfing, Huanchaco will be better for you and even though, it's more expensive than Trujillo, the prices are not excessively high when you look for a long-term rent of at least one month.
When to come? Trujillo is known as Peru's city of eternal spring. A bit like Medellín in Colombia but without the rain as it's a desert climate. The months of July, August and September are the coldest with an average temperature of 19°c. However, it's often warmer. So there's no bad time to visit Trujillo and the same applies to Huanchaco. However, as mentioned above, Huanchaco gets crowded and pricier between December and March.
What to do? 
Trujillo itself is not the most exciting or beautiful town but it has a nice city centre with great eating options. No matter whether you stay in Trujillo or Huanchaco, don't miss the ancient ruins of Chan Chan to learn something about Peru's pre-Colombian and pre-Incan history.
If you're a surfer, Huanchaco will be paradise for you. As a matter of fact, the whole coast of Northern Peru is either great for surfing or for spending time on the beach. Check cities like Máncora or Zorritos. However, keep in mind that the wifi in most Airbnbs tends to get worse the further north you go. Mobile wifi normally works fine and has an average download speed of 20Mbps.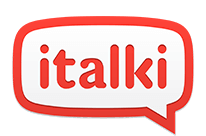 Start learning Spanish or improve your existing skills to have a better experience in Peru and all other Latin American countries. The platform italki is perfect for digital nomads as you can choose among thousands of teachers and have lessons at the time and days of the week which work best for you. Sign up by clicking here or on the picture above and get US$ 10 for your next Spanish lesson (or any other language).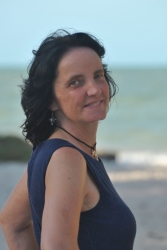 Latest posts by Daniela Fries
(see all)