How to visit the Pachacamac ruins from Lima
Day trips from Lima are not so easy. First of all, the city is huge and the traffic horrendous. That means that it takes time to get out of Lima. Even more so when you depend on public transport. The Pachacamac ruins belong to the few places which can easily be visited. If you're staying in Miraflores or Barranco, you should plan 5 – 6 hours to get there, visit the site and return to your accommodation.
A warning before I dive further into the topic: If you're not genuinely interested in Peru's archaeological sites, you should perhaps consider spending the day in Lima and eating at a nice restaurant. Personally, I found reading about the Pachacamac ruins and their history extremely interesting but the site itself didn't impress me that much.
---
Have you already booked your hotel in Peru?
---
How to get to the Pachacamac ruins by bus and back
If you're in Barranco, it's your best option to catch the bus to Lurín in Av. San Martín. This will cost you 3.5 soles (about US$ 1). In general, any bus which says "Lurín" or "Panamericana" will do.
The buses will go through the neighbourhoods of Barranco and Chorrillos and eventually end up on the Panamericana. Follow along on GoogleMaps. Depending on the traffic, you'll be on the bus for 40  -50 minutes.
The archaeological site of Pachacamac is located at the old Panamericana (Avenida Antigua Panamericana). Have a look at the map below to get an idea where you have to get off:
As far as the distance is concerned, you could walk to the Pachacamac ruins but with all that traffic, I don't recommend it. Instead, stay where you are and wait for the next colectivo to arrive. Colectivos are those mini buses or vans which often serve the same routes as the normal buses but also routes where fewer passengers are expected.
Ask the driver if he passes at the Pachacamac ruins and expect to pay 1 sol for the ride. It's easier on the way back as you can take any colectivo at the bus stop in front of the museum's entrance. Get off as soon as you're back on the Panamericana and wait for a bus back to your neighbourhood in Lima.
---
Not in the mood to take a local bus? Book a Pachacamac tour instead:
---
The history of Pachacamac
When the Spaniards arrived in 1533, Pachacamac was the most important religious and administrative Inca sites on the Peruvian coast. However, this had only been the case for about 60 – 70 years. The Pachacamac sanctuary is actually a pre-inca ruin which tells us a lot about the history of ancient Peruvian cultures.
Settlements in the Lurín Valley
The Lurín Valley was inhabited as early as 5,000 BC. However, Pachacamac was only built about 5,000 years later. It became an important religious centre for the Wari people between 600 and 1100 AC.  A huge cemetery which was excavated in the late 19th century by the German archaeologist Max Uhle dates from this era.
Around 1100 AC, the Ychma became the most powerful culture in the Lurín area. They built more temples and pyramids and remained the dominating power until the Incas took over around 1470 AC.
All these cultures, from the early settlers to the Incas left their traces in Pachacamac.
Pachacamac Museum
Museums belong to the most popular tourist attractions in Lima and are normally worth a visit. If you're interested in museums and archaeology, check out my post about the Larco Museum which is an absolute must-see when you're in Lima. The Pachacamac museum is no exception. That means that I'm kind of contradicting myself. Visiting the archaeological site itself may be a waste of time but visiting the museum isn't.
In the museum, you'll find a lot of ceramics and fabrics displayed. A walk through the museum is a walk through thousands of years of Peruvian history. If you want to see everything and read all the information carefully, you're likely to spend about 1.5 hours at the museum.
The actual Pachacamac ruins
The museum and the archaeological site belong together, you pay an entrance fee of 15 soles (US$ 4.50) for both.
The area is quite big and there's practically no shadow, so make sure to use a sun blocker if you visit in summer and take water with you.
After leaving the museum, you'll pass a small shop where you can buy some souvenirs and a cafeteria. At both places, the prices are pretty reasonable. I had a sandwich and a juice. The quality of the food wasn't outstanding but totally okay and the place was nice enough to sit down for a 15 – 20 minutes.
Garden with native plants and fruit trees
The round tour starts at a garden with native Peruvian plants and fruit trees. Since living in Peru, I got used to the huge variety of tropical fruits at the markets and supermarkets but I still find it fascinating to actually see them growing on trees. Unfortunately, not much information was offered in the garden but my Peruvian friend who was born in the countryside explained quite a bit.
According to the Pachacamac website (Spanish only), they also have animals such as llamas, guinea pigs and dogs at the site but we didn't see any.
Lots of sand and dust and stones
Well, that was my impression of Pachacamac as soon as we had left the garden. It wasn't possible to enter any buildings. There were just some plates with information. Normally, I feel a connection to the past when I visit such old places but in the case of the Pachacamac ruins, this simply didn't happen. Here are two of the photos I took. They reflect how dreary this place looked and felt.
So is Pachacamac worth a visit?
Let me express it like this: If you spend a month or more in Lima and are looking for what to do in Lima apart from enjoying the incredible food, visiting the Pachacamac ruins and especially the museum is not such a bad idea. I don't regret that I went, I simply had expected a bit more.
If you're in Lima for just a couple of days, visiting Huaca Puqllana in Miraflores (post about it will follow soon) is definitely a better idea.
Have you visited Pachacamac? How did you like it? Please write in the comments as I'm really curious to hear about other people's impression. 
---
Are you looking for accommodation in Lima?
If you're a couple or two friends, I recommend this beautiful vintage boutique apartment which is owned by my friend Sergio. Click on the picture to go directly to the Airbnb listing or read my personal review and description here.
Don't have an Airbnb account yet? Use the button below to sign up and receive a US$ 25 travel credit.

---
Did you like the post? Then why not share it on Pinterest? Muchas gracias.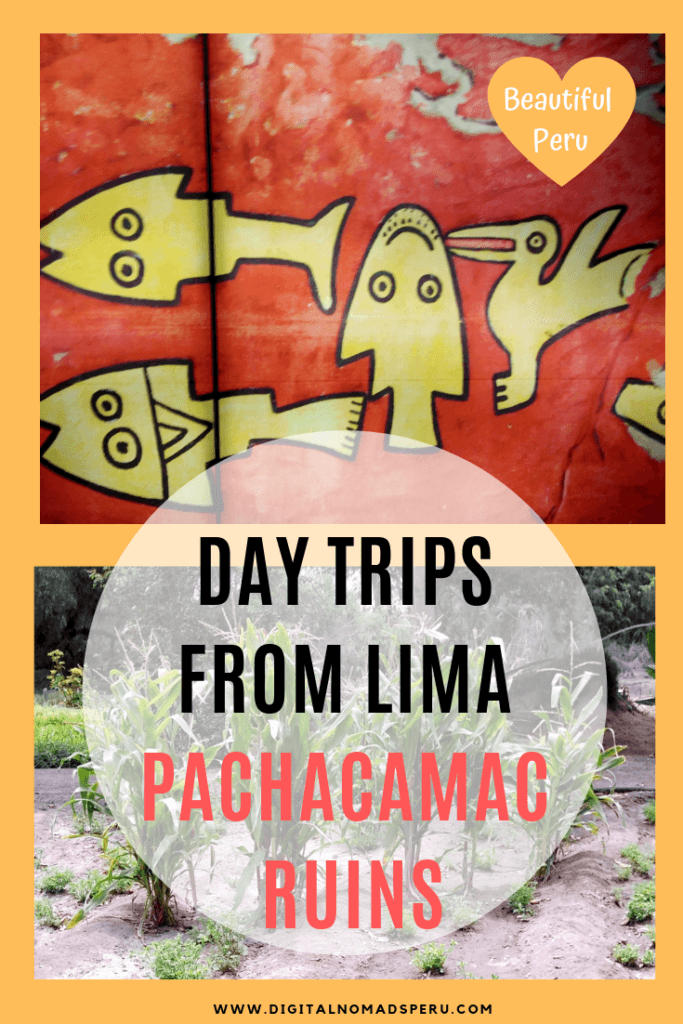 This post may contain affiliate links, which help to maintain Digital Nomads Peru and keep creating awesome content for you. Making a purchase by using any of these links doesn't result in any additional costs for you, of course. 
Digital Nomads Peru is a participant in the Amazon Services LLC Associates Program, an affiliate advertising program designed to provide a means for sites to earn advertising fees by advertising and linking to Amazon.com.  I only recommend goods and services I believe are useful and reliable.