Before settling down in Cusco for the whole month of October, I decided to spend two days in Sacred Valley and chose the old town of Ollantaytambo as my base. I wanted to do this on my own and that means relying on colectivos and taxis compartidos. A colectivo is a van with space for 10 – 16 people. They circulate all around Peru and are very cheap. A taxi compartido looks like a private car and I'm pretty sure that many drivers don't have a licence to carry passengers. They will often approach you and offer a ride. I've never felt unsafe in taxi compartido but I prefer colectivos because you normally have a little more space. The price should be more or less the same, sometimes the taxi driver will try to get some soles more from you if you're a gringo.
This article focuses less on the actual sights but rather gives you an overview of how I got there and how much it cost.
This post contains affiliate links, which help to maintain Digital Nomads Peru. Making a purchase by using any of these links doesn't result in any additional costs for you, of course. Digital Nomads Peru is a participant in the Amazon Services LLC Associates Program, an affiliate advertising program designed to provide a means for sites to earn advertising fees by advertising and linking to Amazon.com. I only recommend goods and services I believe are useful and reliable.
From Cusco airport to Ollantaytambo
The colectivos to Ollantaytambo leave at Calle Pavitos. Every taxi driver at the airport should know that. The ride will cost you about 15 – 20 Soles. 
Okay, the taxi will drop you off at Calle Pavitos and now the fun part starts. If you look as much a gringa as I do, you will quickly attract attention. Most likely, you will also look a little lost and wondering where the heck those colectivos to Ollantaytambo are leaving. Well, you need to ask. There are colectivos, so just ask. The ride to Ollantaytambo costs 10 soles and takes about 1.5 hours. In many cases, your luggage will be stored on top of the colectivo. In Ollantaytambo, you will probably be dropped off in front of the local market, that's a 2-minutes walk to the Plaza de Armas. The city is small, so normally you should be able to walk to your hostel or wherever you chose to stay.
I'm not the kind of person who likes to squeeze in as much as possible in one day. If you are and if you have little time, you may be able to do in one day what I did in two.
So I stayed in Ollantaytambo for the first day. The city is situated at an elevation of almost 2,800 m which is less than Cusco (almost 3,400 m) and personally, I had only slight problems with the altitude. I needed to walk a little slower than normal, nothing else.
I stayed at the Chaski Wasi, just one block from the Plaza de Armas which was very quiet and had pretty good internet. Breakfast was served at the little café next door. 
The region of Ollantaytambo was already inhabited in pre-Inca times but the Incas built most of which is the historical centre of Ollantaytambo nowadays. It's a pretty little city with cobblestoned streets but also very touristic with lots of souvenir shops and restaurants around Plaza de Armas and on the way to the Inca ruins.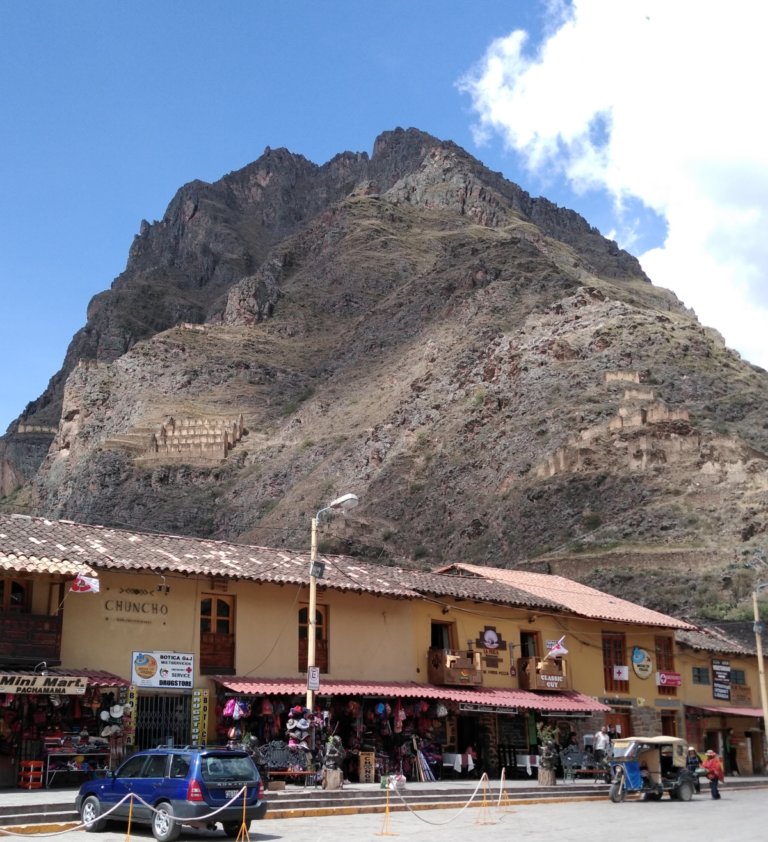 Archaeological site of Ollantaytambo
The archaeological site of Ollantaytambo used to be a military, religious and agricultural place for the Incas. It covers quite a large area and you can either walk around on your own or hire a guide which should cost you about 80 soles for a tour of about 2 hours. Bring water (I recommend Lifestraw bottles) and use sunscreen as the sun is really strong in the mountains. If you want to see everything and take breaks, you'll need about 3 hours for the archaeological site. I went there in the morning and there really weren't a lot of other tourists. Entrance prices vary depending on which ticket you choose. There are several multi-entrance tickets available so you have to plan a bit ahead to make sure that you don't pay too much.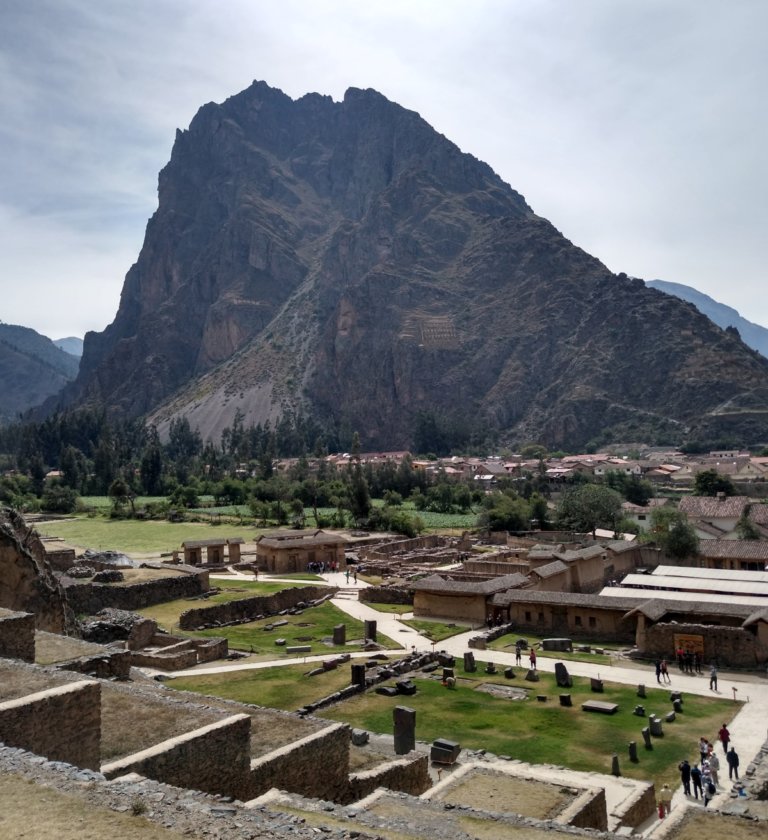 Climbing Pinkuylluna Mountain
That was my afternoon activity. Entrance is free but make sure that you don't start too late because they close at 4.30 pm and you will need at least two hours if you're in good shape. It's better to plan more time because parts of the hike are pretty steep. For me, climbing up was exhausting but worth it because of the spectacular view. Climbing down was more stressful because I was constantly afraid to slip and fall. That's a psychological thing, of course.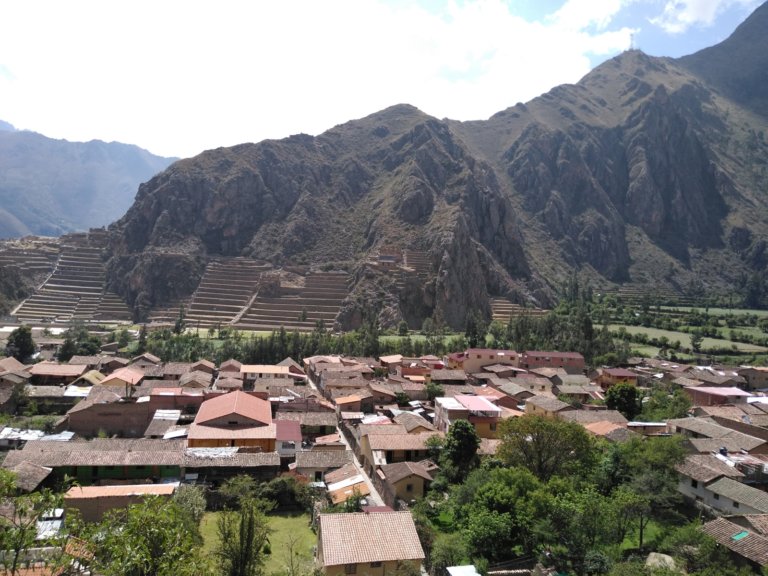 Day 2: Visiting the Inca ruins of Moray and the salt ponds of Maras
That was my adventurous day as far as getting from one place to the other was concerned. To be honest, I had expected things to be easier and without the help of some very nice indigenous women in Maras, I would have either been stranded or would have had to hire a private taxi or book a tour.
So what happened? I had been told that I needed to go first to Urubamba and then to Maras. There are plenty of colectivos between Ollantaytambo and Urubamba, that was the easy part. They leave in front of the local market (where you probably arrived when you came from Cusco) and cost 2 soles.
In Urubamba, I quickly spotted a colectivo which said "Maras – Salineras". Unfortunately, everyone got off in Maras and the driver told me he could take me to the salt ponds for 20 soles. I was quite annoyed and got off, too. Maras is actually just a village. There's a small Plaza de Armas like everywhere, some people selling all kind of stuff and that's it basically. I talked to one of the vendors and she told me about the possibility to take a taxi compartido to Moray.
The Inca ruins of Moray consist of several terraced circles which are very beautiful to look at from above. There's a path down and around the circles. You need about one hour to walk along that path and really enjoy the site (that's why you should negotiate with the driver if you decide to go there by taxi, they normally offer you to wait for just 30 minutes).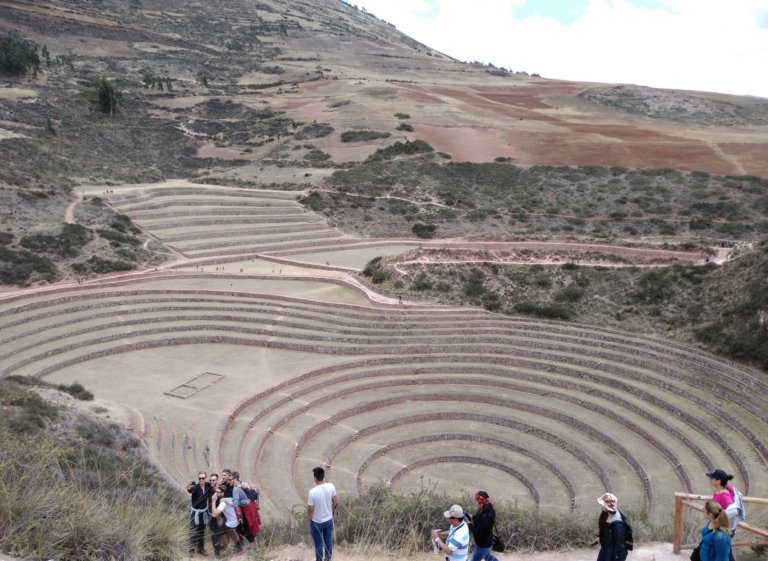 From Moray to the salt ponds of Maras
I've got to admit that I was a little worried when I stepped on the parking lot and saw just tour buses. I wondered how the heck I'd make it to the salt ponds now. But suddenly, I spotted a colectivo which said "Maras". Eh, Maras again … Was that a good idea? I eventually decided to try my luck – and got stranded at Plaza de Armas in Maras again.
I was at the point to go there by private taxi for 20 Soles when one of the women I had talked to earlier approached me and led me to a small truck. She told me that the driver was her cousin and on the way to the salt ponds, he'd take me for 2 Soles.
Some people may ask themselves if this is safe. Well, you always run a risk when you trust a stranger but my gut feeling told me that those indigenous women in Maras really wanted to help.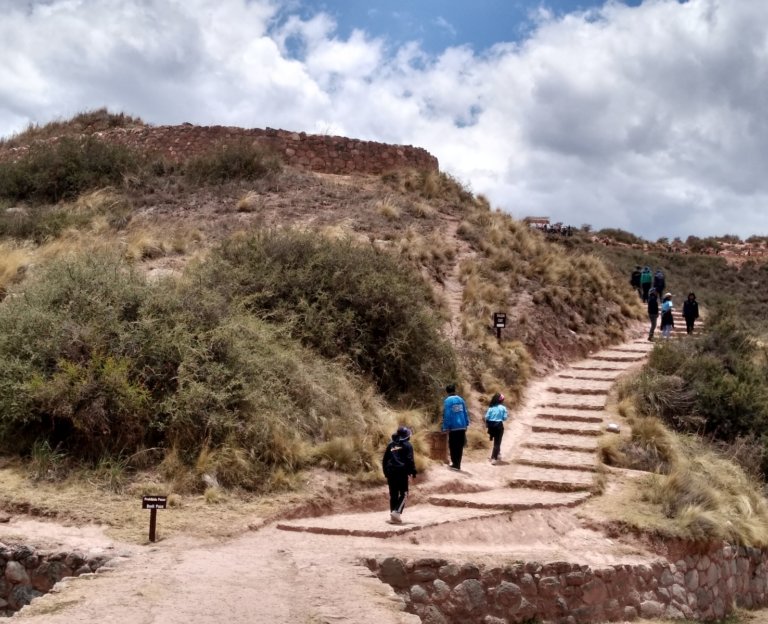 The salt ponds of Maras are as beautiful as they look on every pic you will see online. No photoshopping needed :-). To be honest, I mainly wanted to see the site and didn't really understand how harvesting salt from those salt pools works. I just read this Wikipedia article for a short overview. Just like with Moray, you need at least one hour for the salt ponds. There are also souvenir stands and you can certainly buy as many salt as you like. 
After I had seen everything, I returned to the parking lot – no colectivo, nothing which looked like a private taxi.  After 20 minutes of waiting and looking around, I eventually approached a driver of one of the numerous tour buses and managed to get a ride to the main street which connects Cusco with Urubamba.
Here, I was really lucky because a taxi compartido was just loading some goods and there was still space for another passenger, too. Even better: The vehicle was on its way to Ollantaytambo.
All in all, I paid 18.5 soles for transport that day. Not sure if I'd recommend it, though. I didn't check any tours but talked to taxi drivers who offered that ride (Ollantaytambo – Moray – Salineras – Ollantaytambo) für 70 – 90 soles. Considering the distances, that's not a high price but they would only give you 30 minutes to visit Moray and 30 minutes to visit the salt ponds while waiting for you. In my opinion, that's not enough time, you won't be able to really enjoy the sites. If you travel in a group of 3 – 4 people and are willing to pay 25 – 30 soles each, you will most likely to able to convince the driver to give you 60 minutes for each site.
Well, and if you're based in Cusco, I recommend this tour to Maras and Moray. My daughter booked it and liked it.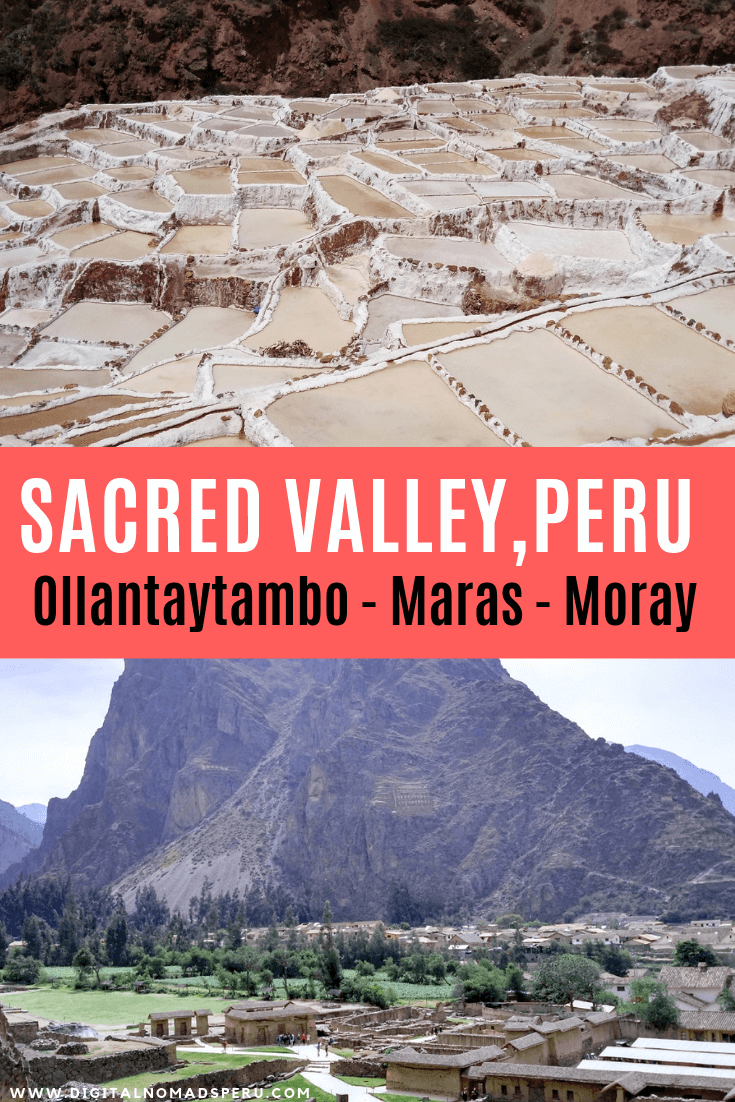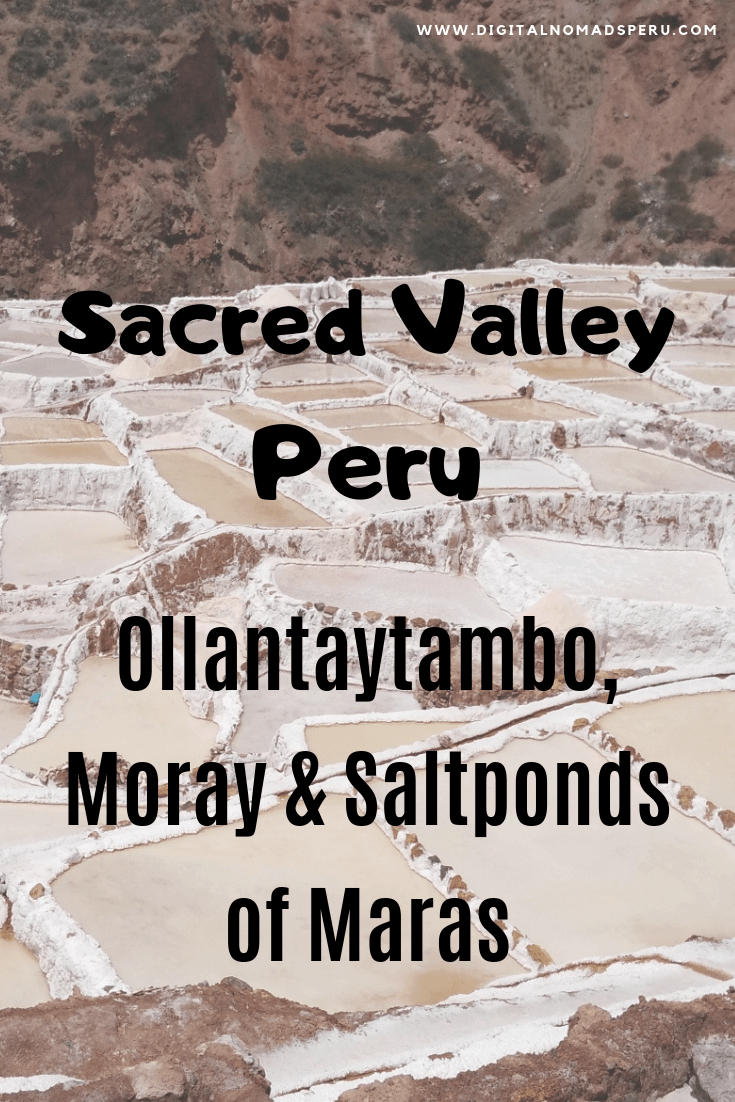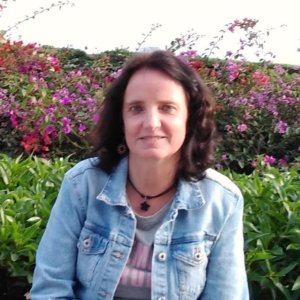 About the author
Hi, I'm Daniela. I'm originally from Germany, have been residing in Peru since May 2018 and explore Latin America as a digital nomad and entrepreneur. I teach German online and provide people with tipps and information about Peru and Latin America on my two blogs Digital Nomads Peru and Danielas Lateinamerika. I'm an introvert who doesn't like groups of more than 2 – 3 people and needs a lot of alone-time.