Do you like to visit museums? With this post about the Larco Museum, Digital Nomads Peru is starting a series about the museums of Lima. It will help you to decide which museums are must-sees, which ones are worth a visit and which ones can be left out if you have little time or are not that interested in the topic.
Larco Museum – The facts
Address: Avenida Simón Bolivár 1515 – Pueblo Libre, Lima
Opening hours: Monday – Sunday 9am – 10pm (until 6pm on Dec 24, 25, 31 and Jan 1)
Admission fee: 30 soles (app. US$ 9)
Website: www.museolarco.org
Top-3 reasons why you should go
You will learn that the old Peru was much more than just the Incas
The museum has a beautiful garden and a great restaurant where you can relax before or after your visit
The Erotic Room gives you fascinating insights about the sexuality of the ancient cultures
How to get to the Larco Museum
It's no secret that I like to use public transport. I had a car for a short time just twice in my life because it was a necessity. However, I never liked driving and also don't like individual means of transport because it's not environmental-friendly. Well, to be honest, in Lima, neither the old taxis nor the old buses and micros owned by private companies are particularly environmentally-friendly. But that's a different topic. Let's get back to the point.
The Larco Museum is situated about 10km north of Miraflores, the part of Lima where most tourists and digital nomads stay. I live in Barranco, so for me, it's a bit farther away. I use the Moovit App to find out how to get to a new place by bus. Unfortunately, Lima is very chaotic as far as traffic is concerned and sometimes, using common sense is more helpful. For example, on the way to the Larco Museum, I had followed the app's instructions but instead of 50 minutes, it took me 90 minutes to get from Barranco to Pueblo Libre taking two buses.
The way back was easier. Lima has some very long avenues which stretch over 50 blocks or more. Avenida Brasil is one of them and it has the advantage that it has middle lanes which are only used by buses. That means that the ride along Avenida Brasil is pretty fast. There are several buses which connect Miraflores with Avenida Brasil. Once you're on such a bus, just follow along on GoogleMaps and hop off as soon as you reach the crossroad Avenida  Simón Bolívar. There you take another bus until you reach block 15.
For me, it meant three buses on the way back because I had to take another bus from Miraflores to Barranco but it was nevertheless faster. Just cost me 1 sol more. When you take a bus in the same neighbourhood or just go to the next neighbourhood, you pay 1 sol, if you cross more neighbourhoods, it's 2 soles.
If you don't feel good about taking the bus, a taxi is your other option. If you hail one in the street, you'll probably pay 15 – 20 soles from Miraflores to the Larco Museum. There were surprisingly few taxi drivers waiting in front of the museum when I left. I had the impression that many tourists from abroad visit it by taking a tour.
Some words about Peru's history
In our minds, Peru is strongly connected with the Incas. However, their empire only lasted for about 150 years before the Spaniards arrived. While Mesopotamia is supposed to be the place where the oldest civilization arose, scientists nowadays believe that there is not just one cradle of civilizations but several. In the Americas, they list Mexico and Peru as places where ancient civilizations emerged independently from each other.
The Caral-Supe civilization of north-central coastal Peru started to build cities as early as 3500 BC. For comparison:
Mesopotamia: around 4000 BC
Ancient Egypt: around 3100 BC
Ancient Greece: around 800 BC
Other old Peruvian civilizations include the Chavín (northern Andean highlands), the Moche (northern coast), the Nazca (Ica Region) and the Chimu (Trujillo region) cultures.
Peru is full of archaeological sites and so much more than Machu Picchu.
Visiting the museum and its exhibitions
The Larco Museum is privately owned. It opened in 1926 and is housed in a building from the 18th. This building was built over a 7th-century pre-Colombian pyramid, so we already have a lot of history here.
The Larco Museum is so special because it covers the entire range of pre-Colombian history, showcasing finds which are several thousand years old as well as ceramics, jewellery and textiles which were made by the Incas. It displays them in chronological order in various halls.
It's possible to book a guided tour and if you rather like to listen to someone instead of reading something, I totally recommend it. I heard some of the explanations which were given to a group of English-speaking visitors and really liked the style. However,  if you're like me and like to read information, go at your own pace. Unlike in quite a few other Peruvian museums I've already visited, the written information is really good and available in several languages.
Here are some pictures from the permanent exhibition: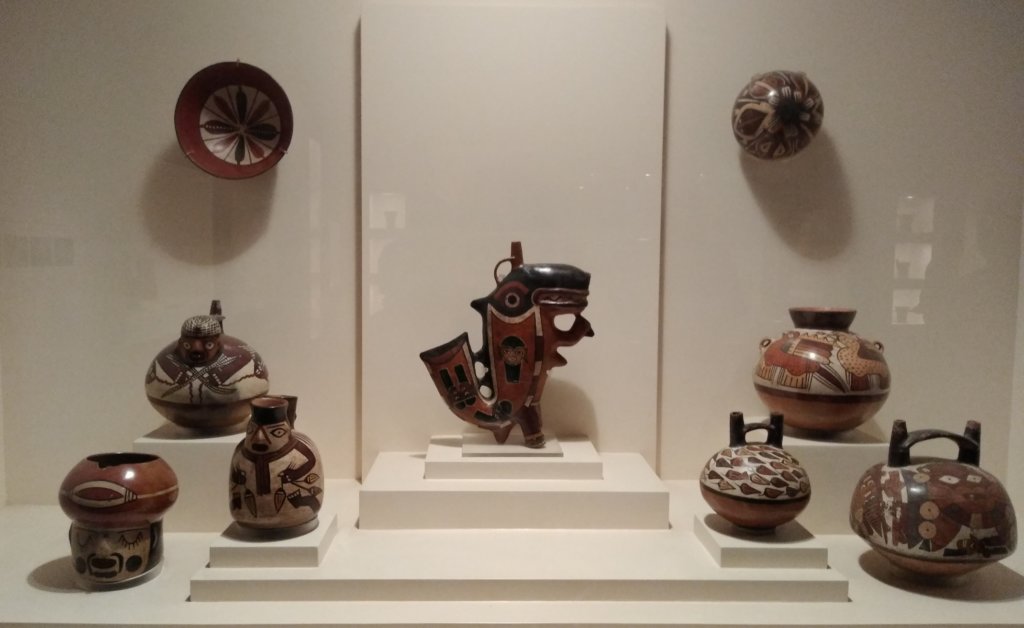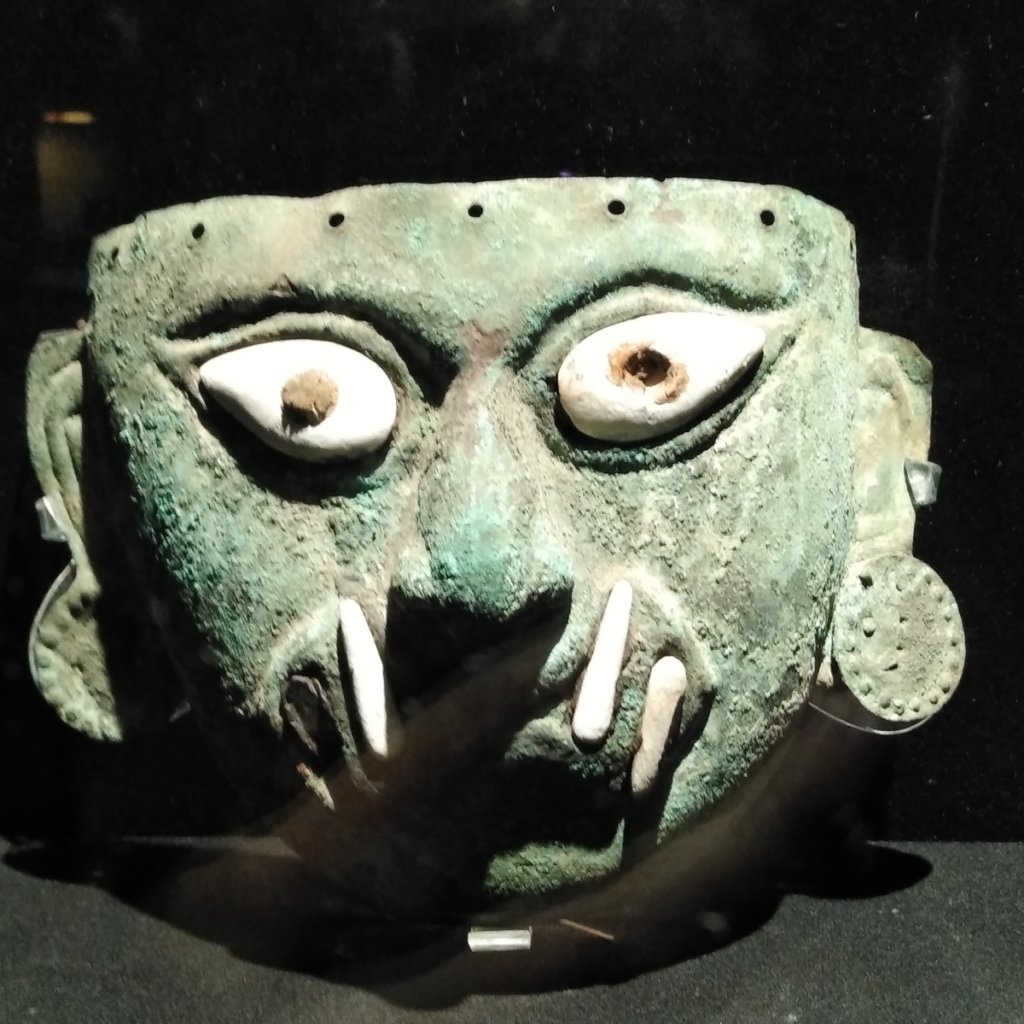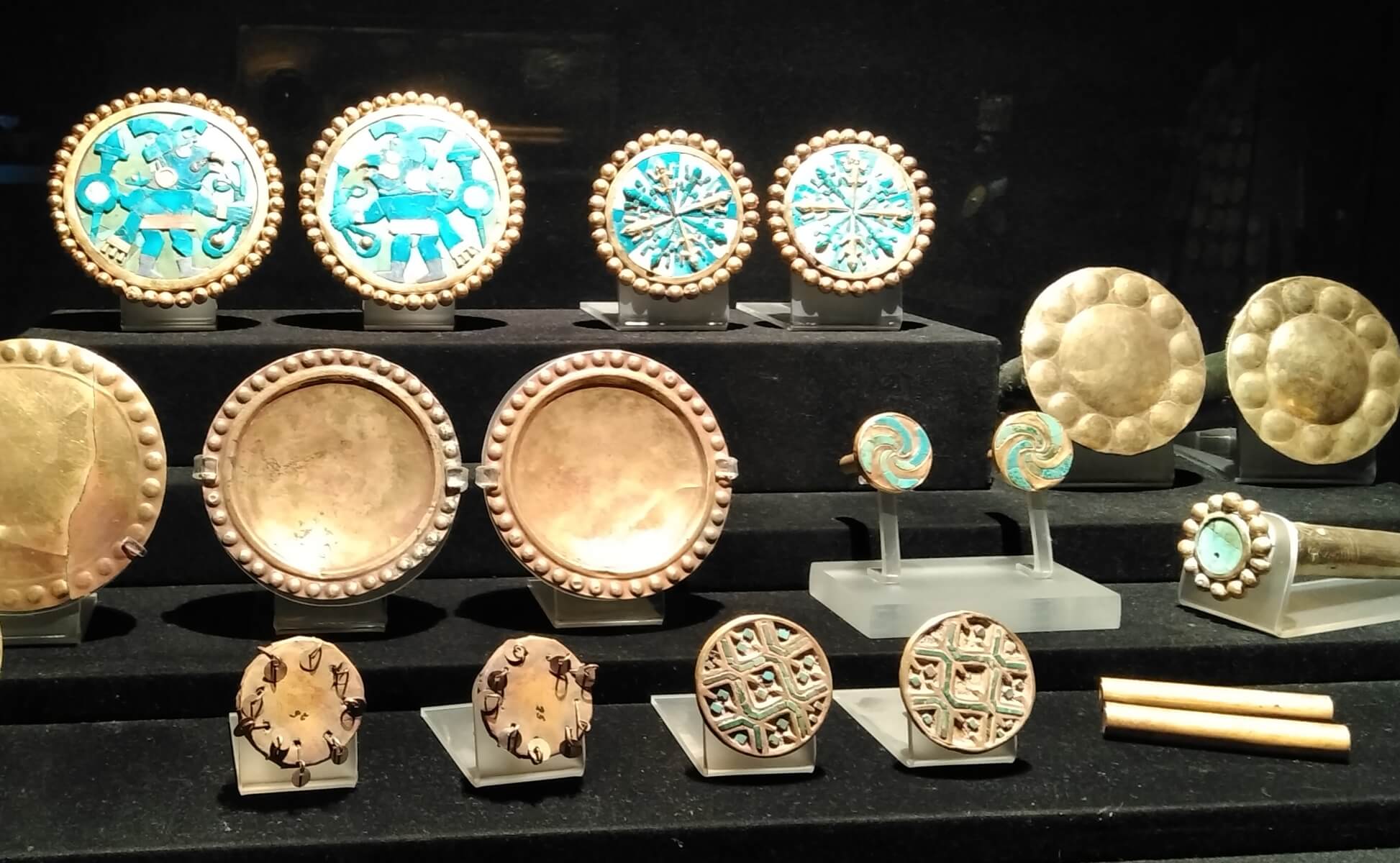 Just in case you wonder why I mentioned the Erotic Room as one of the top reasons to visit the Larco Museum but don't show any pictures of it: It is art, yes and part of the history and all this but some of these ceramics are very explicit. Well, and I know that certain social media channels have a problem with this (even if it's art) and I don't want to risk being punished or blocked for showing pornographic content. Well, perhaps that even made you really curious now. The Erotic Room is situated next to the restaurant, you're welcome to visit it after you had lunch – or perhaps you'd like to have Pisco Sour after your visit :-).
Garden, restaurant and shops
What I really liked is that you can enter the museum, spend time in the garden, eat or drink something at the restaurant or have a look around the two shops without having to pay for a ticket. The ticket is just for the exhibition. And the garden is so beautiful that it's always worth it to spend some time there if you happen to be nearby.
The garden of the Larco Museum
So many flowers and cactuses, so full of colours, I really loved it. Well, and I was lucky because, at the end of November, Lima is a beautiful city with lots of sunshine. This made the garden look even more beautiful. Here are some pictures: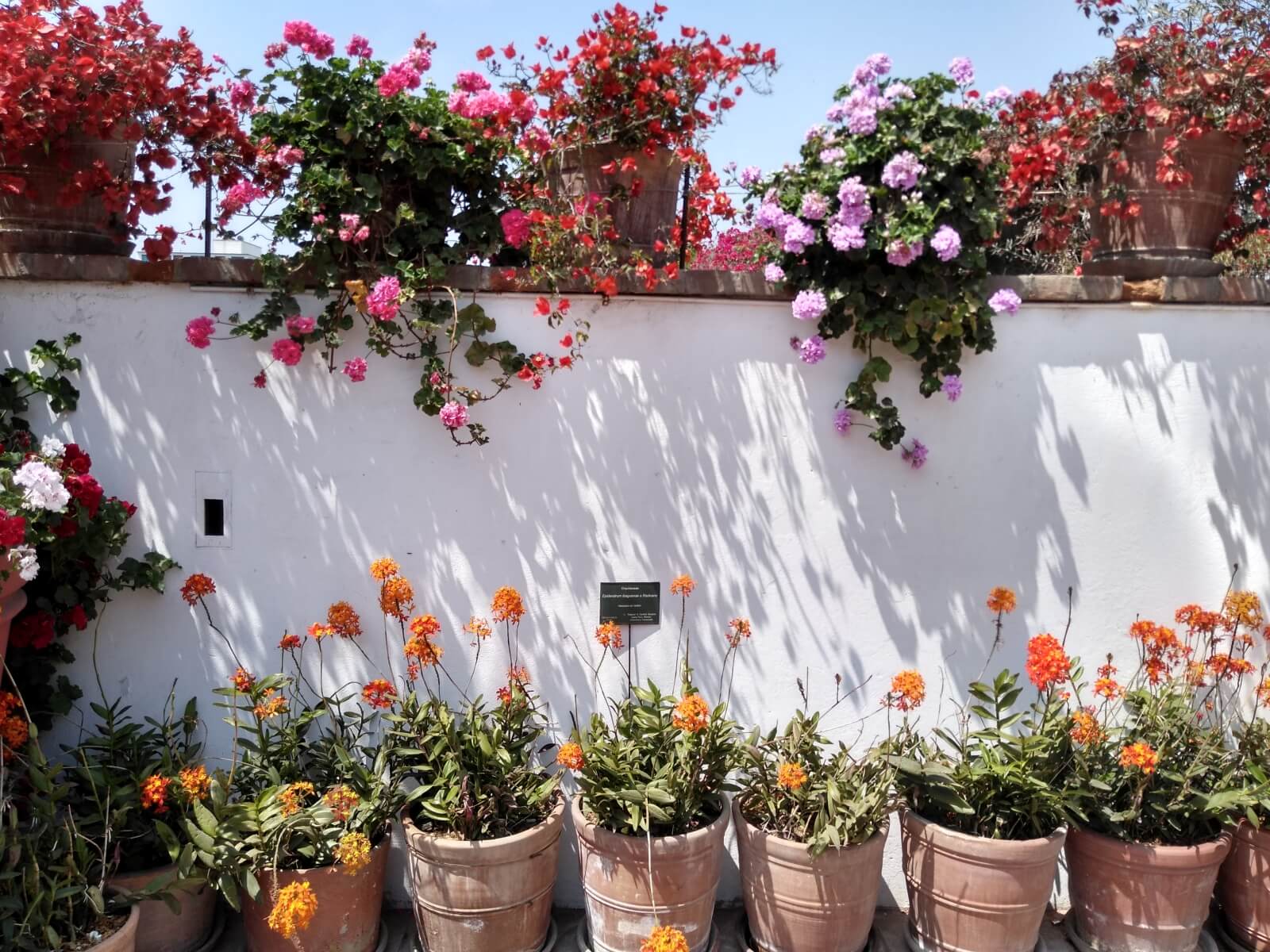 Restaurant and café
I had planned to eat something before visiting the exhibition but it was really full around 1 pm. That was a surprise because the restaurant is pretty big. Well, so I eventually decided to try again after visiting the museum and that turned out to be a good decision. At 3 pm, there were plenty of free tables and I was able to sit next to the garden.
The restaurant offers typical Peruvian starters, soups, salads, sandwiches, a good choice of main dishes, desserts and all kind of beverages ranging from juices to the famous Pisco sour, Peru's best-known and most delicious cocktail. The prices are perfectly okay, the most expensive main dish I saw cost less than US$ 20.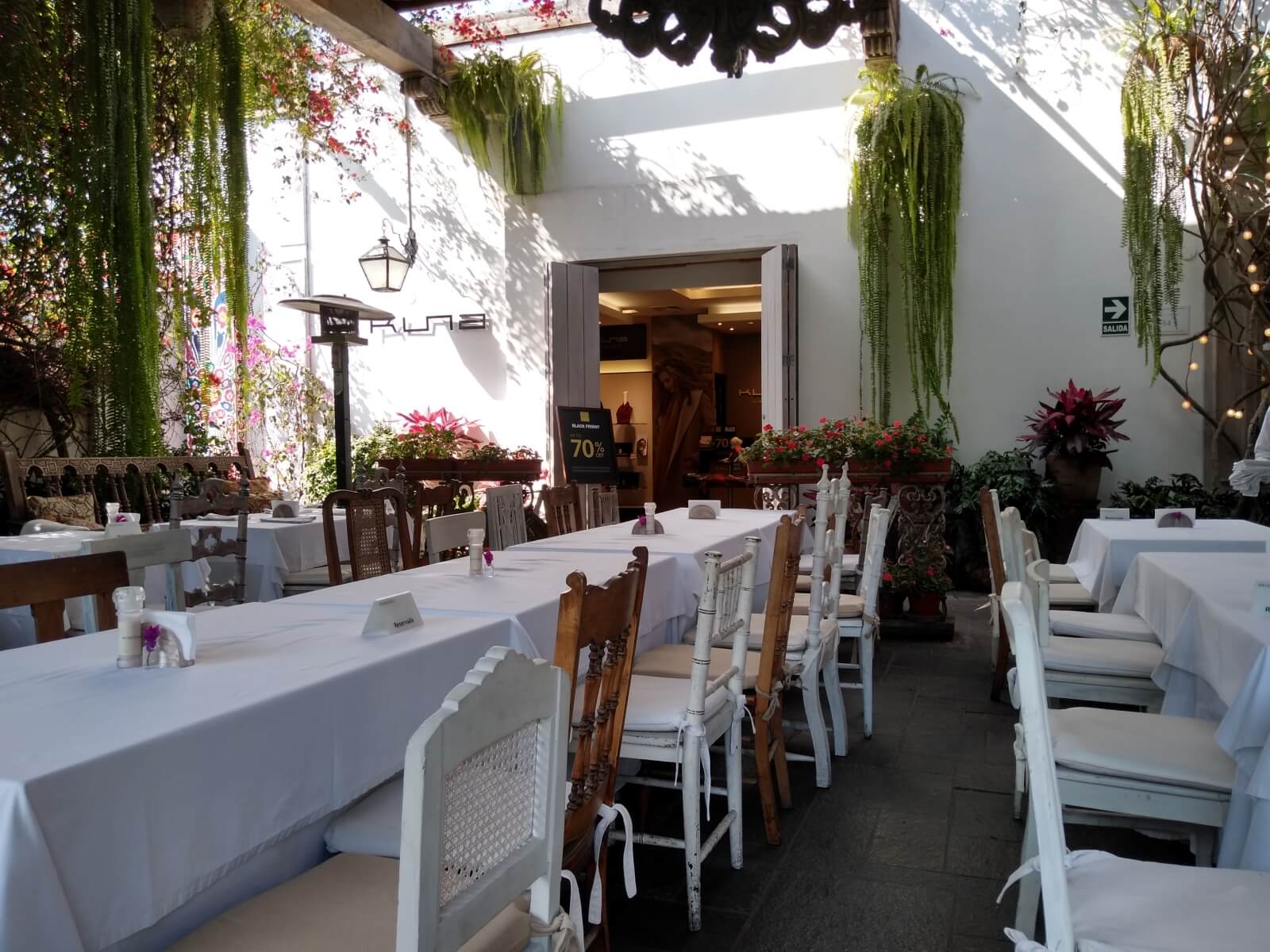 Shops
There's one shop next to the entrance and another one next to the restaurant. They have really nice things but the prices are pretty high, to be honest. Or let's say that I'm simply no longer used to such prices after living in Peru for almost two years. If you're just a visitor and come from a West European country, from the US, Canada or Australia, you may not be as shocked as I was. And it's definitely worth it to have a look around. Peruvian souvenirs tend to be very colourful.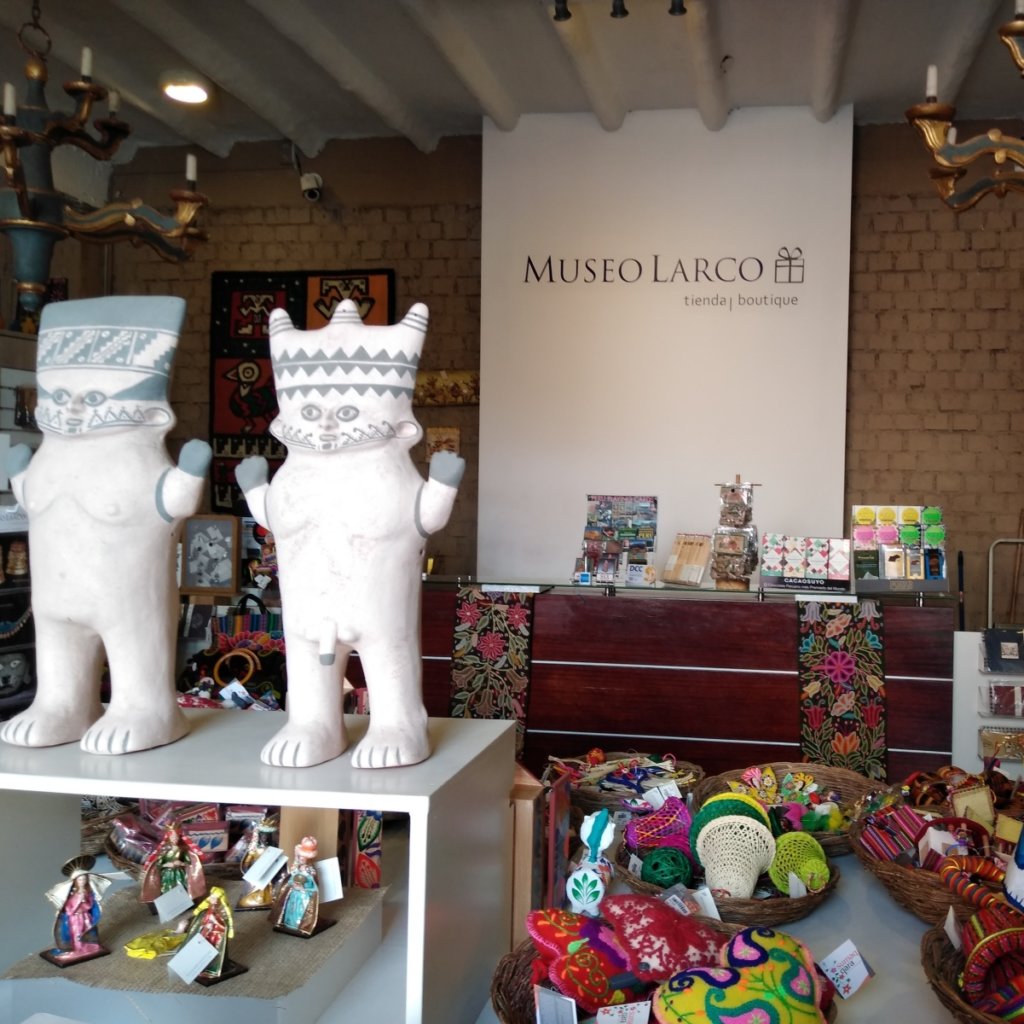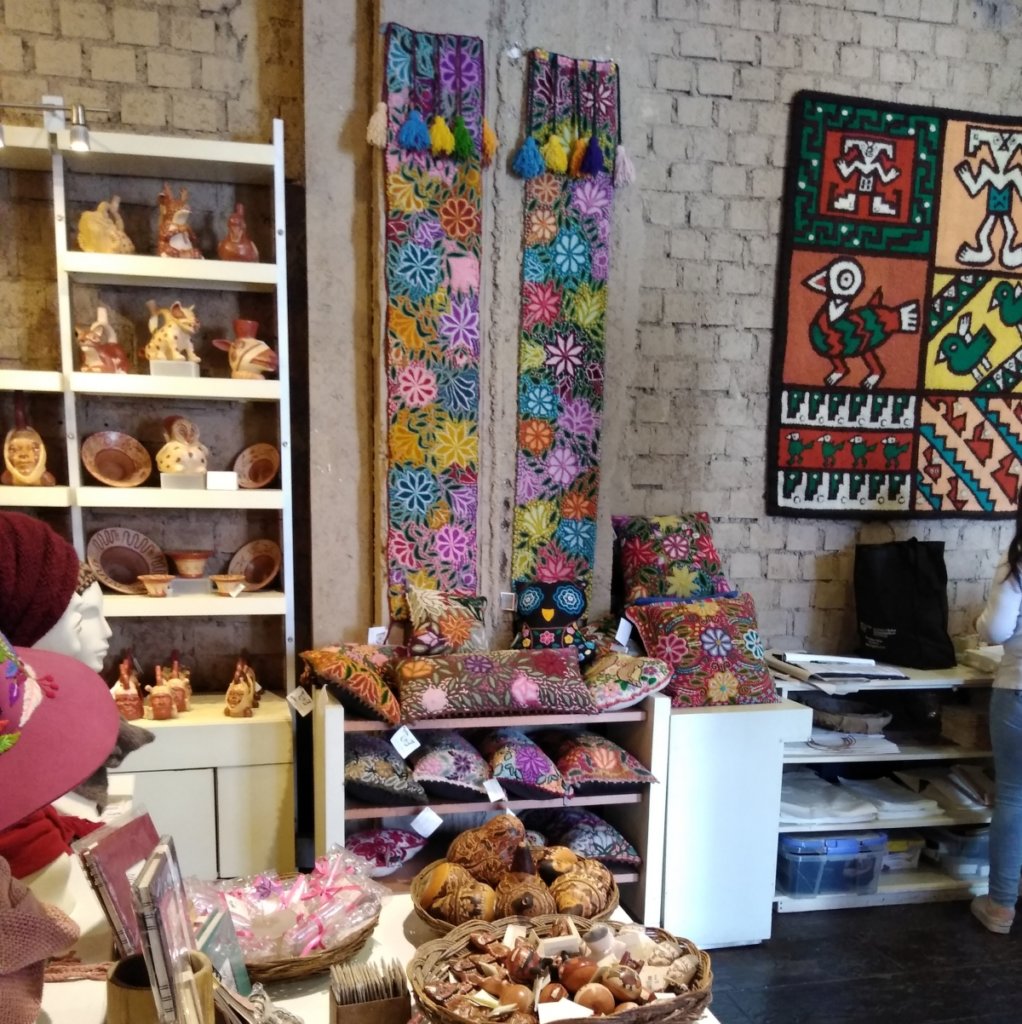 Do you like to visit museums? Have you ever been to a museum in Lima? Or even visited the Larco Museum? Don't hesitate to share your experience in the comments. I'm looking forward to hearing from you. 
Did you like the post? Why don't you share on Pinterest? Thanks.