Here's our next digital nomad interview. With this series, I feature people of different cultural, professional and personal background and let them talk about their lifestyle, why they chose to become digital nomads and how they combine work and travel. Please don't hesitate to get in touch if you'd like to be part of the digital nomad interview series.
Did you miss the previous interviews? Here they are:
This post contains affiliate links, which help to maintain Digital Nomads Peru. Making a purchase by using any of these links doesn't result in any additional costs for you, of course. Digital Nomads Peru is a participant in the Amazon Services LLC Associates Program, an affiliate advertising program designed to provide a means for sites to earn advertising fees by advertising and linking to Amazon.com. I only recommend goods and services I believe are useful and reliable.
Interview with Hanna Steingräber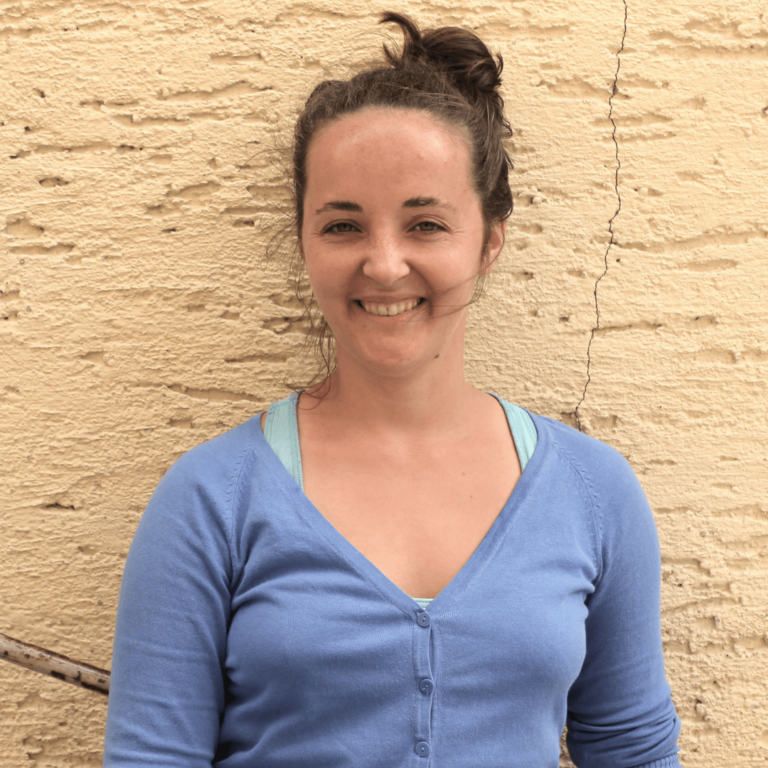 Hi Hanna! Could you tell us a bit about yourself and your background?
My name is Hanna, I am a podcast editor and pet sitter by heart. I combine my work and travel desires: supporting online entrepreneurs with their podcasts taking care of the entire post production process and pet sitting for home owners that want to go away on holiday or a business trip knowingly that their loved pets are in good hands.
I have two podcasts so far: "Hanna Steingräber Podcast" which started out as a solo show of me sharing my experience as a virtual assistant (I was a virtual assistant for two years) and giving tips along the way. This show is somehow growing with me and thus will turn into something different – still to be confirmed.
My new podcast project is very exciting. I founded the "It matters" podcast in 2019 to raise awareness for doing good things in life. On the interview show I am hosting (online) entrepreneurs to share the impact they are making in this world by creating a business that makes a difference for other people, animals, the environment, etc.
Some guests on my show have a business that revolves around creating a good change in this world or else they engage elsewhere beyond their business activities. I am constantly on the look-out for interesting entrepreneurs' stories and their impact in this world – so if you want to contribute, get in touch!
Why and when did you set off as a digital nomad?
When I first started freelancing in the summer of 2017, I did not travel right away although it would have been possible. Rather I enjoyed the freedom that I possibly could go travel or see my family on flexible terms. It was a feeling of pure freedom.
At the time I used to share flats with other people in three German towns and could not wrap my head around people doing the 9-5 although they seemingly were stressed and didn't enjoy it. Traveling does not mean you are happy right away, but the right choices that you make do. And you can always choose – anew.
I started traveling in November 2018 and haven't stopped ever since. I am basically homeless at the moment and feel like I have never been happier.
In 2015 I took about 6 months to completely declutter all of my belongings. My overall aim was to live with as little as I could carry at one time. Didn't quite succeed and I still have some boxes at my grandparents', but I certainly learnt to put my focus on the things that add value to my life.
It is a process – and I know minimalism ist a trend also at the moment – but for me it has made a big positive change in happiness, contentment and overall joy of life. I currently travel with just one hand luggage sized backpack and love it!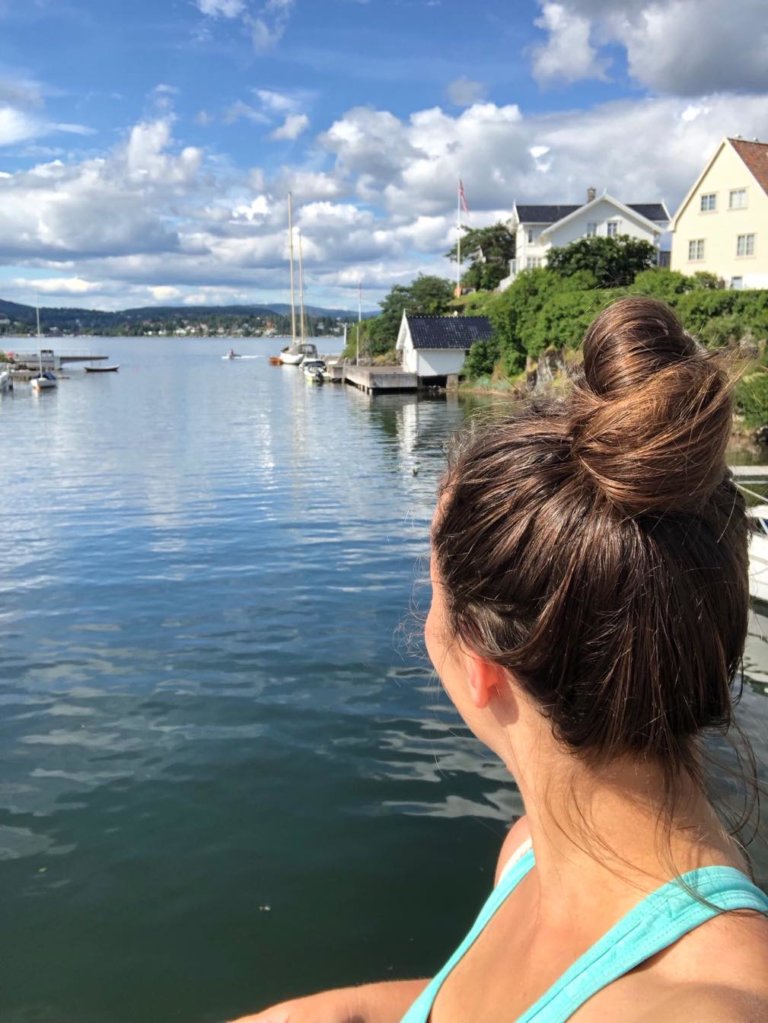 Do you travel alone or with a partner/friend? Which advantages and disadvantages does this have?
I travel on my own as I am a person that needs a lot of time to herself. It is important to get a regular dose of self care and it just works best when everyone you need to take care of is yourself.
In between pet sits I do meet up with fellow digital nomads at conferences which can last for a few days. I choose very wisely who I spend my time with. The conversation needs to have some meaning and help my counterpart and me grow in some way.
Also I do visit my family back home quite regularly, though I find it hard to connect well as their lives are just so very different. It is a different world and I honestly don't always feel like entering that world. Still, we're family, so we need to keep in touch. One cannot choose family, but friends, and the people you work with, and the people you travel with.
I have spent time this year with two good friends at a conference in Berlin and in Spain. I like the way of catching up with friends virtually, but every now and then it is important to meet in person.
Which continents/countries have you already visited? Do you have a bucket list of places you'd like to see?
I have been traveling to most of Western Europe and have lived in Costa Rica, Portugal and Spain. I have been to the U.S. and Central America.
I must say that pet sitting feels more like having lived in the country than having visited. It is an interesting experience.
I fancy going to Ireland, Scotland (again), Iceland as well as New Zealand. I do have a bucket list which is not only about traveling, but it honestly doesn't have countries on it. So, I am going with the flow.
As a pet sitter, I often do not know where I will be in four weeks from now. How exciting is that?
How do you handle work vs travel/sightseeing time?
I tend to not do classical sightseeing. Much rather do I want to connect with like-minded people. So I use meetup.com to find out about events taking place and check out local Facebook groups.
The home owners of my sit also provide me with information about business and cultural events that I might be interested in. I try to not get stressed out about having to see everything in the area I am in. It might just be two weeks and maybe it is a time when I need to finish an important project.
Depending on how I feel I might get more active or just relax and enjoy a day and night in. Also, I am a nature person and require a calm surrounding. I can do a day in the city, but then need three days in nature 😉
When I know I will be traveling on a certain day, I let my clients know that I won't work on that day. Earlier I would try and work in airports, but honestly, it is not always possible due to distractions, bad internet and the general exhaustion of traveling.
How long do you plan ahead? What are the advantages and disadvantages of planning ahead, in your opinion?
I usually do not plan ahead much. Whenever I can secure a great house sit, I will do so. But I am also aware of the conferences and events that I want to go to. Some I decide for just a few weeks in advance. I might be booked as a pet sitter around 2-6 weeks in advance.
I cannot say what are the advantages and disadvantages as I assume we are all different, thus we should find whatever works best. It helps to know your values of security and adventure.
If you are an adventurous person, you will strive to have a very flexible travel schedule or none at all. If you need more security, you will certainly make more plans. Whatever works, there is no right or wrong.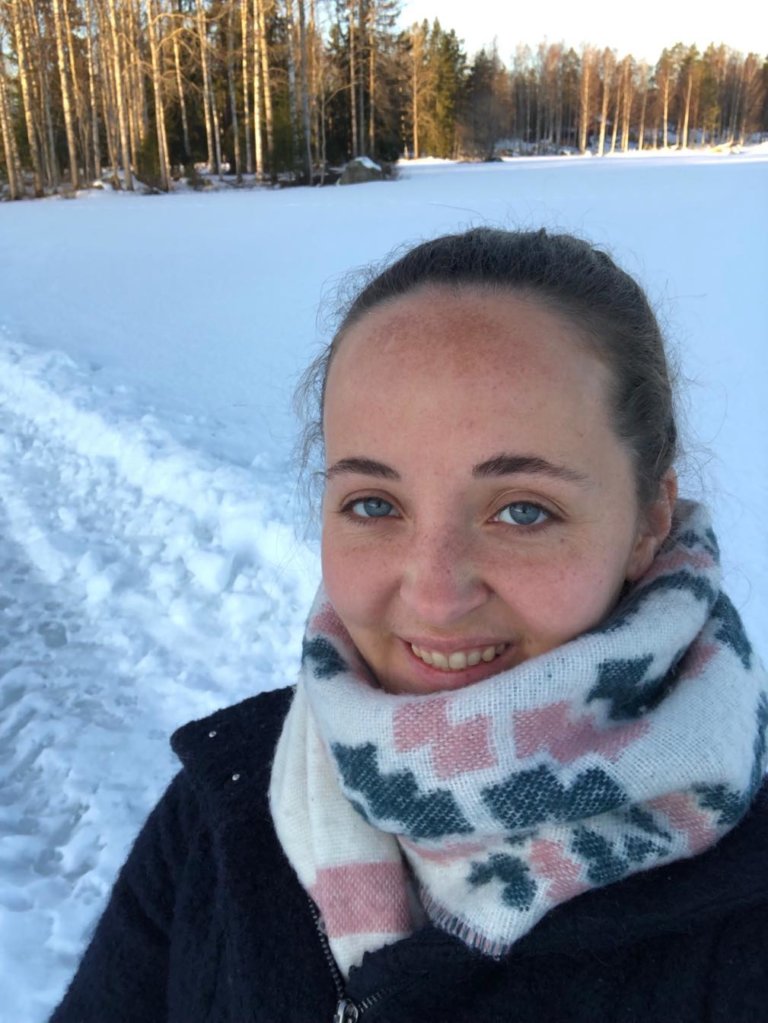 You travel as a house and pet sitter. Could you tell us how this works? What are the advantages and disadvantages or challenges?
I have been traveling as a pet sitter ever since November 2018. I land pet sit jobs through the platform TrustedHousesitters which I highly recommend. It brings home owners and pet sitters together.
I make sure to keep my profile updated, apply to the jobs I wish to do and then speak to the home owners before agreeing on a sit. It works very easily and it grants me a flexible travel schedule.
To answer the questions, I do not see any disadvantages and if I ever find a challenge, I try to set up a good solution for it.
How and where do you like to work? Why?
I work remotely as a podcast editor. I have my laptop always with me and generally work from the pet sit home. It gives me silence to work and I just love living in a home and working from home. It has less distractions for me than working in a public space.
I rarely do co-working spaces. Also, I am currently working on my second podcast project: The "it matters" podcast.
Do you have plans to settle down one day? If yes, where?
I do not make plans much in advance. One of my goals is to have my own tiny house in a few years to live in and also use as an income stream when I am traveling. A tiny house is a mobile home, so I will most possibly move it every now and then.
Any recommendation for people who would like to start a nomadic life but are not sure how?
Learn from people who are living the nomadic life. Facebook groups help a lot. Just ask your questions and approach the people you want to learn from.
And most importantly: Take action! Take one step at a time and you will get there. In my opinion, it is difficult to lay out the "plan" for people. All of us just have to start somewhere and then evolve.
Anything funny, dangerous or special which happened to you that you'd like to share?
Time spent with my house sit pets is the best. Recently I visited a family I had done a pet sit for in the summer and it was a beautiful day we spent together. The pets certainly remembered me and now it feels like we are friends.
Thank you very much, Hanna!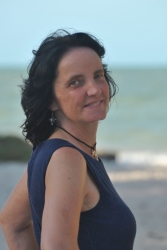 Latest posts by Daniela Fries
(see all)