I'm not a huge fan of guided tours which take more than a few hours but sometimes, it's simply the better option. When I decided to spend some time in Arequipa, I knew that I just had to take the opportunity to visit the Colca Valley with its condors and splendid nature.
This post contains affiliate links, which help to maintain Digital Nomads Peru. Making a purchase by using any of these links doesn't result in any additional costs for you, of course. Digital Nomads Peru is a participant in the Amazon Services LLC Associates Program, an affiliate advertising program designed to provide a means for sites to earn advertising fees by advertising and linking to Amazon.com. I only recommend goods and services I believe are useful and reliable.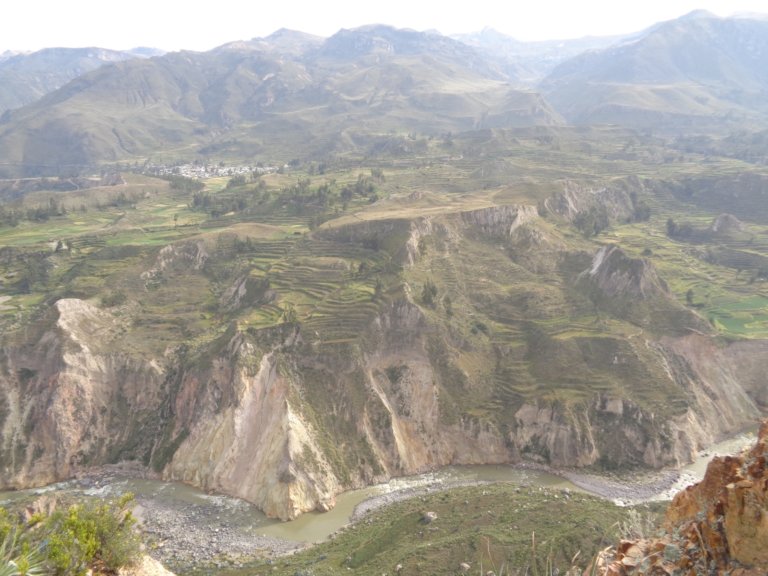 The Colca Canyon is the second deepest canyon in the world (the deepest one is located in Tibet) and it's possible to do trekking tours and spend one or two nights at basic huts on the ground. But that was not what my 2-days tour Colca Valley with condor watching was about. We didn't see much of the actual canyon but stayed in the valley, stopped at some viewpoints and visited some villages. So before going to the Colca region, make sure what exactly you want and book accordingly. A girl at my hostel in Arequipa booked a trekking tour and loved it but she didn't see the condors, for example.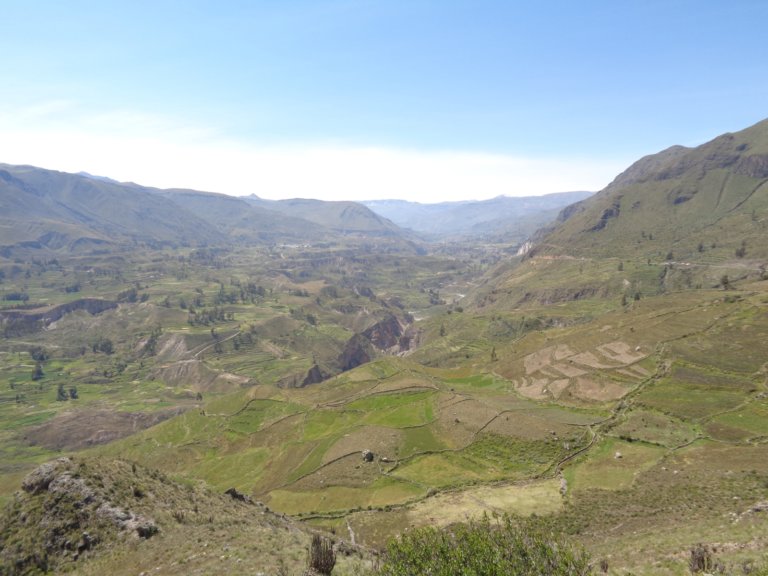 Booking process, organization and prices
There are countless tour operators in Arequipa which offer all kind of tours to Colca Valley and Colca Canyon. Personally, I don't like it at all when someone approaches me in the street and tries to sell me something.
I opted to book through the PeruHop website. PeruHop is a bus company with a good reputation which offers safe and interesting bus routes to several cities in southern and central Peru and in Bolivia. In the case of my tour, they teamed up with Colonial Tours, a tour operator from Arequipa, for the Colca Canyon tour.
All participants were picked up at their hotels or at a location nearby. I had to walk 5 minutes to get to my pick-up location. We were 13 people, did the tour with a mini-bus and were accompanied by a guide who explained everything in Spanish and English.
The tour cost US$ 28 and included one night at a hotel. Sounded extremely cheap at first but there were some extra costs involved:
Entrance to the national park: app. US$ 22 for foreigners
Entrance to the hot springs near Chivay: app. US$ 5 (optional)
Lunch at a chosen restaurant which offered a buffet: app. US$ 22 for two days (optional)
Dinner at a chosen restaurant: app:  US$ 10 (optional)
Some expected tips along the way:  app US$ 5
Total costs: app. US$ 92 (+ souvenirs if you'd like to buy any)
With the exception of the entrance to the national park, all other activities are optional, though. I didn't go to the hot springs and only half of the group had dinner at the chosen restaurant. Skipping lunch was a bit more complicated. On the first day, they took us to the restaurant immediately after arriving in Chivay and before checking in at our hotel and on the second day, we were dropped off at the restaurant after taking the tour to the Condor Viewpoint and before going back to Arequipa.
However, it's still good value for your money, especially taking into consideration that isolated places like Chivay live off tourism and agriculture.
As far as possible altitude sickness is concerned, the first day is riskier than the second one. Arequipa is situated at about 2,300 meters and about three hours later, you're at 5,000 meters. People react differently and if you've never been up in the mountains, you should take some precautions. Basically, you have three options:
Buy soroche pills at the pharmacy, they're sold all over Peru. Soroche is the Spanish name for altitude sickness
Do it like the locals and buy coca leaves. Our first stop was actually a small shop where you could buy them.
Buy coca tea or coca candies – probably the least effective option
I chose the coca leaves and had no problems at all. Two members of our group suffered quite a bit from altitude sickness, the others were fine.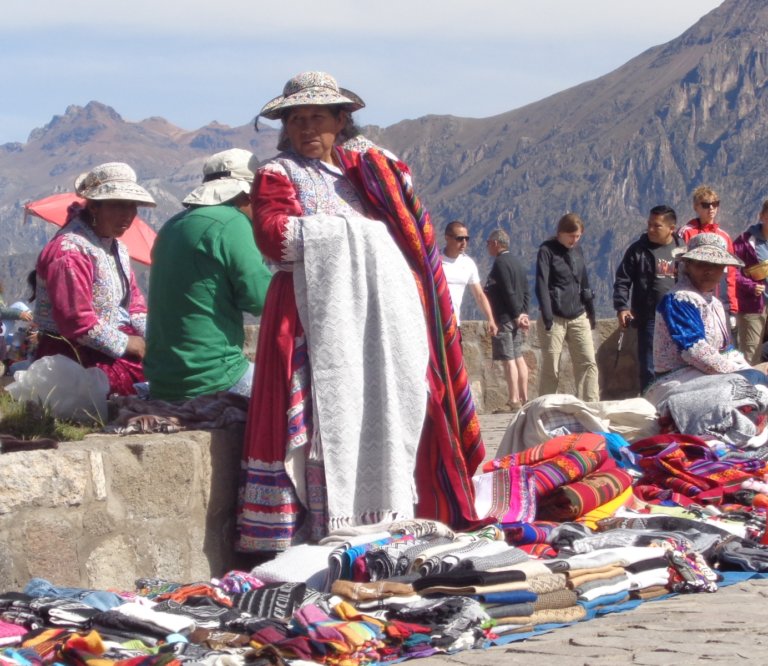 How to use the coca leaves
Take about 6 – 7 leaves and make a small package. Place it in one side of your mouth and chew it for about 15 minutes. Afterwards, you can either spit the rests out or swallow them. Repeat this every hour. I actually chewed coca leaves three times and stopped after we had passed the viewpoint at almost 5,000 meters.
Chivay is the town where our hotel was and where we had lunch on both days and dinner on the first day. It has about 6,000 inhabitants and is surrounded by mountains. As I didn't go to the hot springs, I explored the town a little on my own but there's really not that much to see. I'm always amazed how people can live in such tiny and excluded places.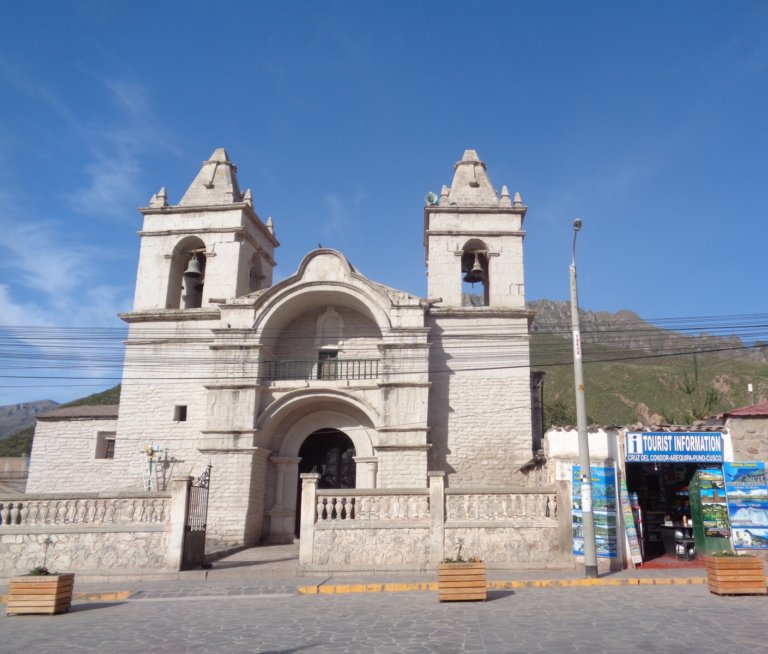 Yanque is about 8 km away from Chivay and even smaller. We just had a short stop there early in the morning of our second day. Lots of souvenir sellers (exclusively women) and children dancing for the tourists between 6:30 and 8:00 am before going to school.
Maca is about the same size as Yanque and situated in the middle between Yanque and the Condor Cross Viewpoint. We stopped there on our way back to Chivay on the second day. If you want, you can try Colca Sour there, the arequipeña version of Pisco Sour, Peru's most famous cocktail. It's made of Sancayo juice (Sancayo being a very acid cactus fruit common in the region). I would have liked to try it but I was so tired that I preferred not to risk it. There will hopefully be another chance.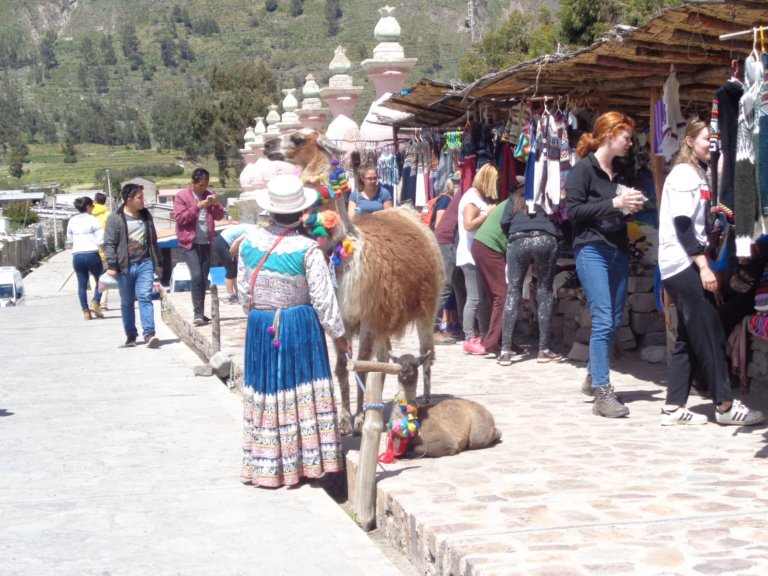 On the first day, we had just one viewpoint, Mirador de los Andes, from where you can see some of the volcanos. It was also the highest viewpoint at about 5,000 meters. The landscape and the view was spectacular but it was really really cold.  No idea how the souvenir sellers could stay there for hours.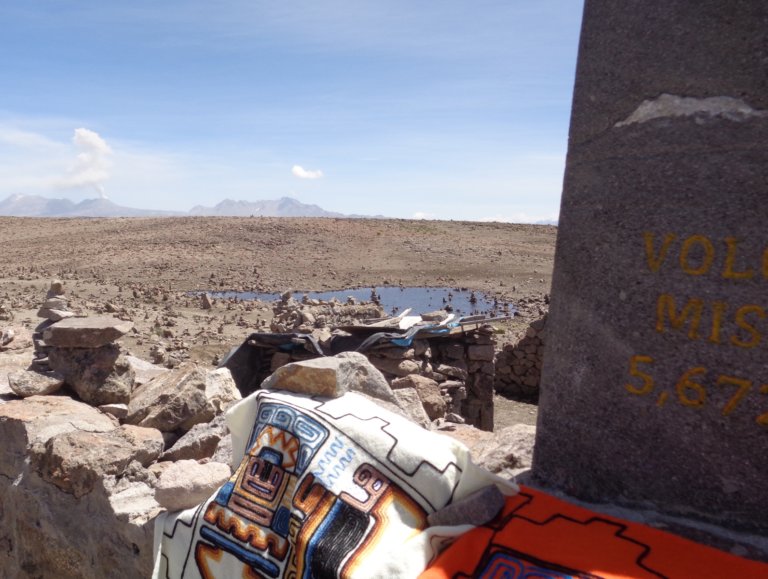 The next day, we stopped at several viewpoints along the Colca Valley. In the morning, it was still chilly but after 10 am, it became rather warm and we were lucky enough to have lots of sunshine. So I even tasted the sancayo icecream which was offered by the souvenir selling women at one viewpoint. Reminder:  Sancayo is the cactus fruit which is typical for the region.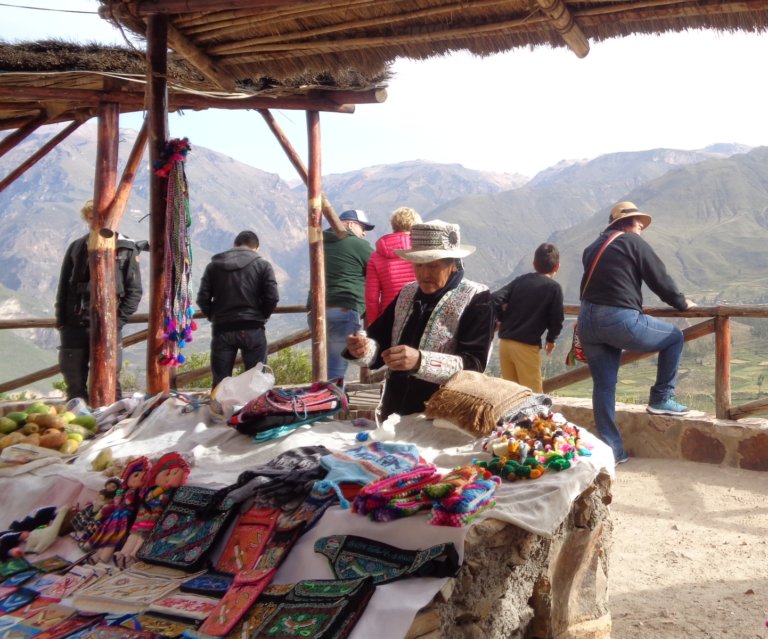 The condor cross viewpoint (Mirador Cruz del Condor) was supposed to be the highlight of our tour and it really was. We arrived around 8:30 am and at first, there was nothing to see. But then, more or less between 9:00 and 9:30 am there were about 12 – 15 condors flying. Absolutely majestic and in that moment, I really regretted that I don't have a decent camera. On the other hand, it's sometimes better to enjoy the moment.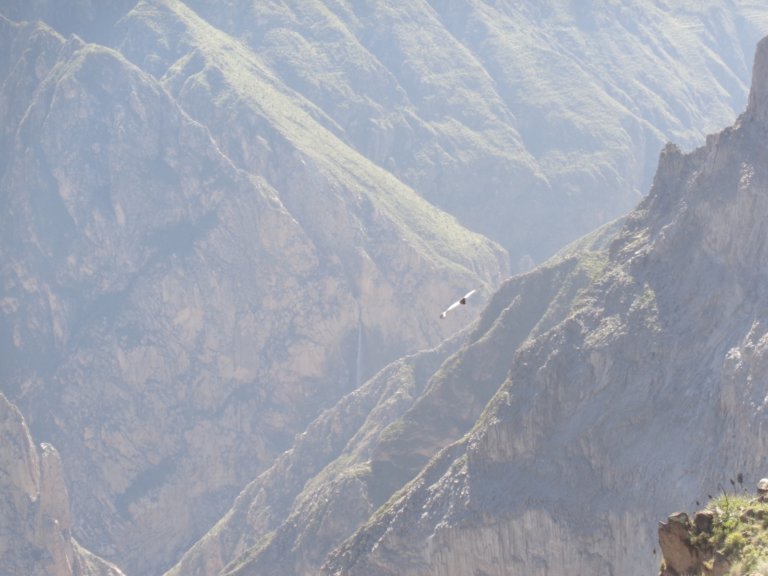 We hadn't been given a guarantee that we would see condors. According to our tour guide, being there between 9 and 10 am is a good time but it also depends on the weather conditions. Well, we had a clear blue sky and lots of sunshine and the condors obviously liked that.
The Andes are home to four camelid species: llamas, alpacas, vicuñas and guanacos, the first two being domestic and the last two being wild animals. Llamas and alpacas can be seen all over Peru while their wild relatives have certain habitats. On our way to Chivay, we crossed a vicuña zone and saw a lot of these beautiful and graceful animals.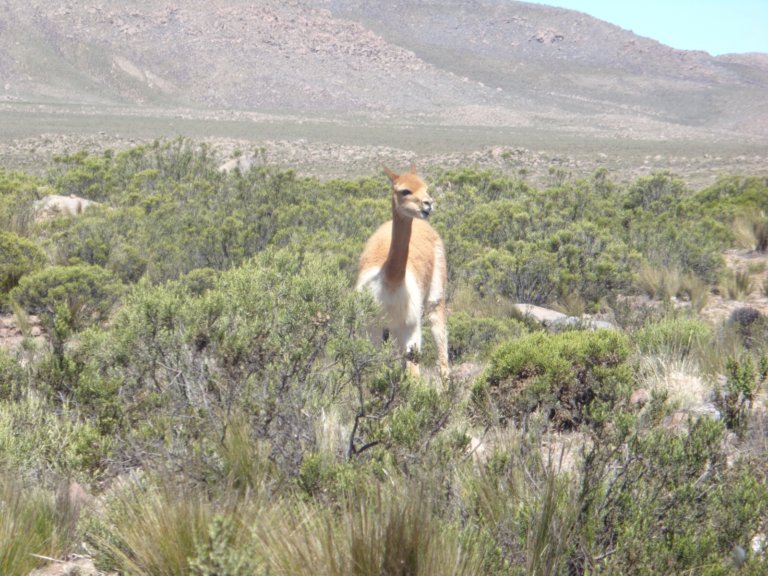 We also had one stop at a pasture ground for a flock of llamas and alpacas. Our guide instructed us that we could stroke them and take photos but were expected to give the shepherd a tip.
The shepherd actually kept in the background and not everyone approached him to give him for a tip. I talked to him for a while and he told me that the animals weren't his but belonged to someone in Arequipa. He would tend the flock every day, no holidays and three hours of walking from the corral to the pasture ground. I would have liked to know what happened with the money from the tourists but I didn't dare to ask. Don't think that the shepherd was allowed to keep everything  – unless it was his salary.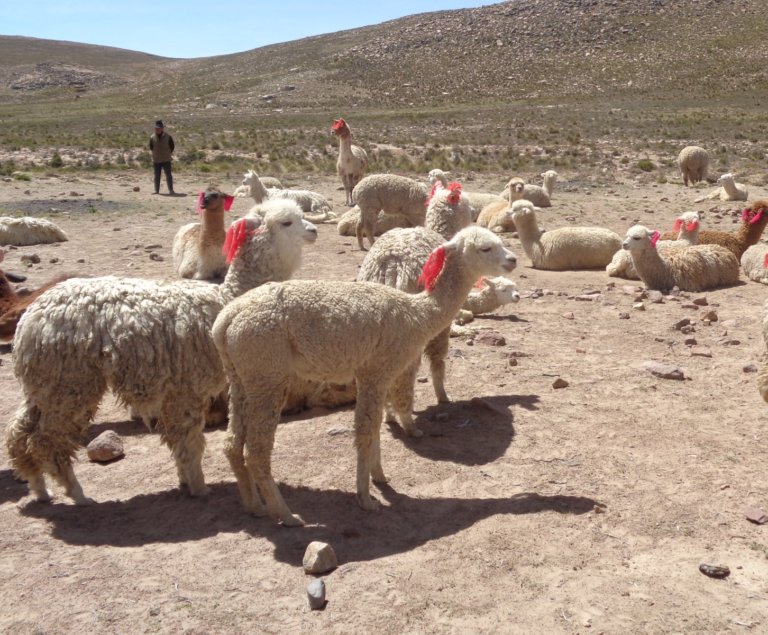 Another animal we saw along the way was the viscacha, a rabbit-like animal which lives in the Andean mountains. I wasn't able to take a photo but they looked really cute.
As soon as we had left Arequipa, internet access was gone. I had an Entel chip in my mobile phone and had no connection at all. Same with Bitel, as two fellow travellers told me. Not sure about Claro or Moviestar but probably not better.  The hotel in Chivay had wi-fi but it was so slow that it was practically inexistent in the rooms and only usable in the lobby. Mobile internet in Chivay worked fine, though. Probably not too fast, I didn't run a speed test.
As those two days were meant as holidays, I didn't mind to be offline most of the time, though.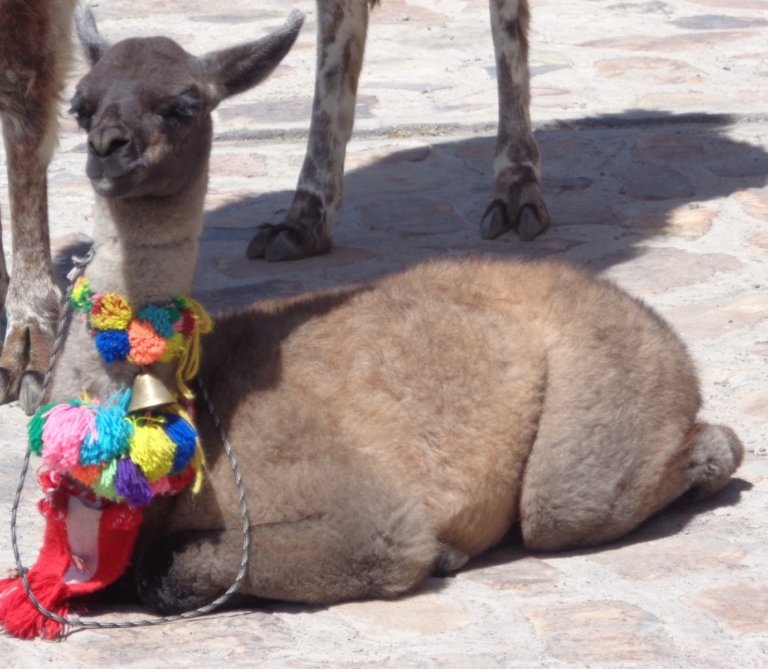 If you're not looking for adventures and would just like to see a little of the Colca Valley, this tour is great for you. Practically no walking at all, everything is done by bus. It's suitable for older travellers and those of us who are not so fit, just take into consideration that you might suffer from altitude sickness.
One last advice or rather an observation: You will read in the tour description that you should bring sunblock and a hat. If you've just arrived in South America and come from the European or North American winter with very white skin, this may be a good idea indeed. I had spent the whole summer in South America before I went on this tour and decided I could do without a sunblock. Apart from those 1.5 hours at the Condor Cross Viewpoint, we didn't spend that much time in the sun and for me, it worked out well.
Not interested in a guided tour?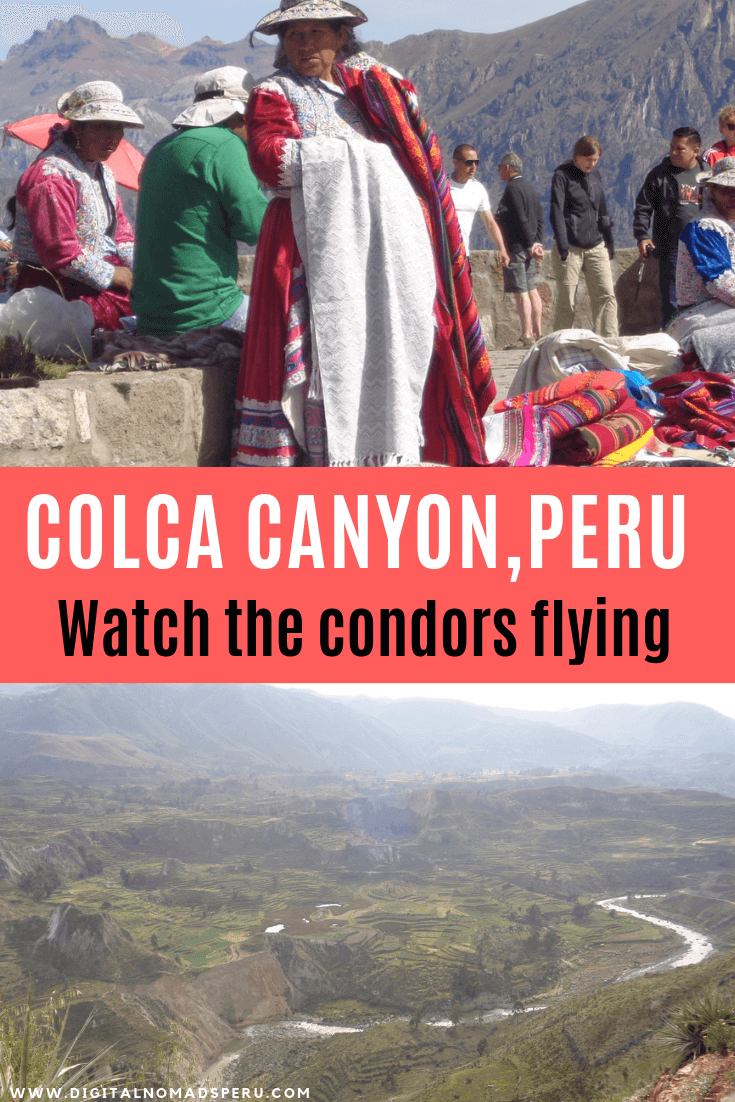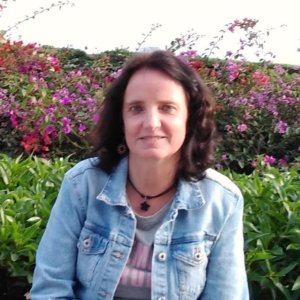 About the author
Hi, I'm Daniela. I'm originally from Germany, have been residing in Peru since May 2018 and explore Latin America as a digital nomad and entrepreneur. I teach German online and provide people with tipps and information about Peru and Latin America on my two blogs Digital Nomads Peru and Danielas Lateinamerika. I'm an introvert who doesn't like groups of more than 2 – 3 people and needs a lot of alone-time.